In this Anytime Mailbox Review, I will detail our experience using their virtual mailbox service.  When traveling full-time in our campervan we needed a reliable and stable mailing address to use for mail, bank accounts, and registrations.  A virtual mailbox is actually a rented physical mailbox, like a P.O. Box.  But unlike a PO Box, they are managed remotely by a company and typically have a normal street address.  That makes it a valuable service for people without a stable address who travel a lot.  So in this review, I will cover our experience using the variety of services offered by Anytime Mailbox.
---
We pay full price for our Anytime Mailbox subscription and are providing our unbiased opinion.  But if you sign up with our affiliate link, we earn a small commission at no additional cost to you.
---
With a virtual mailbox, you receive:
A Real Physical Street Address
Mail & Package Forwarding
Open & Scan Mail Services (PDFs)
Free Unlimited Online Storage
Check Depositing
Global Network
Mobile App
Email, Text, and App Alerts
Anytime Mailbox will scan the front of every piece of mail you receive, and then send it to you via their app.  They also provide email or text alerts if you want to enable those.  We personally find the App Alerts to be plenty for us to never miss a new piece of mail.  And thus keep our email and texts less cluttered.
From the Anytime Mailbox App we can access all the features we need to manage incoming mail.  After reviewing incoming mail we can decide whether want Anytime Mailbox to open & scan, forward, recycle, or shred.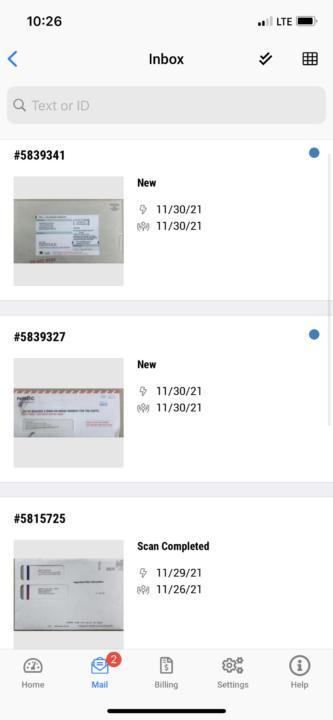 Our specific mailbox location doesn't actually offer mobile check depositing, but that's not really a service we need.  Most jobs have an option for direct deposit and we much prefer that method anyway.
Anytime Mailbox will also receive and forward physical packages to us for a fee.  But we don't use this service too often, because then we basically have to pay for shipping twice.  For physical packages, we still try to rely on one of the methods outlined in our post about how to get mail on the road.
The real street address provided allows you to use that address for voter registration, vehicle registration, bank accounts, etc.  This is honestly one of the most valuable aspects of Anytime Mailbox for us.  Living full-time in a campervan makes it really difficult to do anything that requires a physical address.
And the fact that Anytime Mailbox addresses appear like a real street address makes them far superior to PO boxes.
---
Where Can You Get A Virtual Mailbox?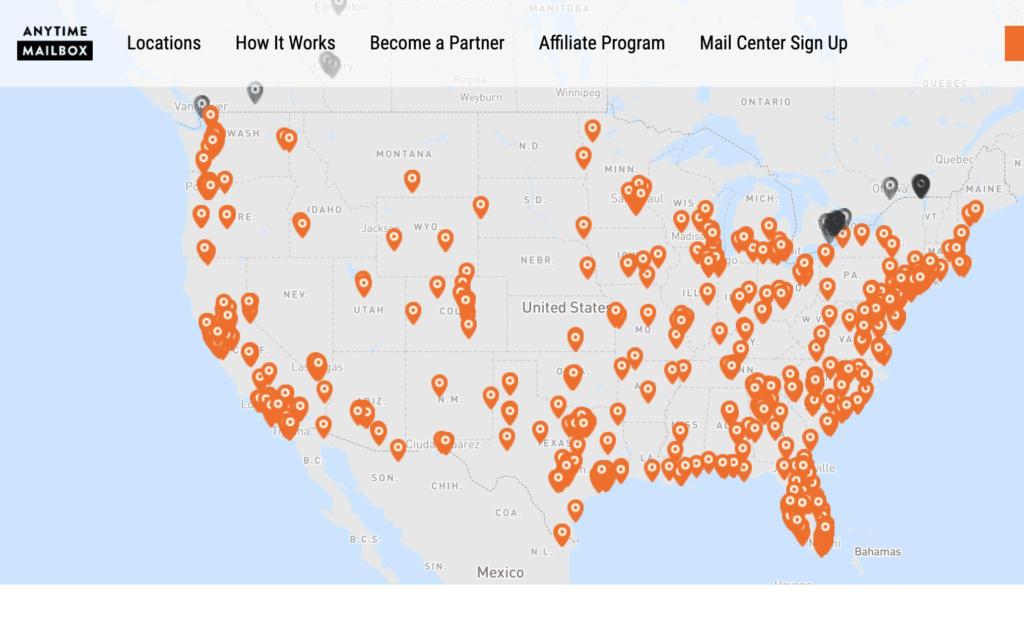 As of writing, Anytime Mailbox has locations in every US state except for Alaska and Rhode Island.  Most locations are concentrated in populated metro areas, with a few scattered in more rural areas.  We chose a mailbox in Steamboat Springs, Colorado.
It's convenient to choose a mailbox in the same state as your driver's license, vehicle registration, or other residency-type things. But you can choose any state you like.
---
How Much Does Anytime Mailbox Cost?
There are a bunch of different plans available depending on the location.  And the price for those plans also varies greatly.  Not really sure why there's so much variation, even among geographically similar locations.  But for our location, we had to choose between the Silver and Gold plans.  We have the Silver plan, so we are going to mostly stick to the services, costs, and allowances associated with that plan.
Our Silver plan costs $19.99/month and $219.99/year.  So they basically give you a free month if you pay annually instead of monthly.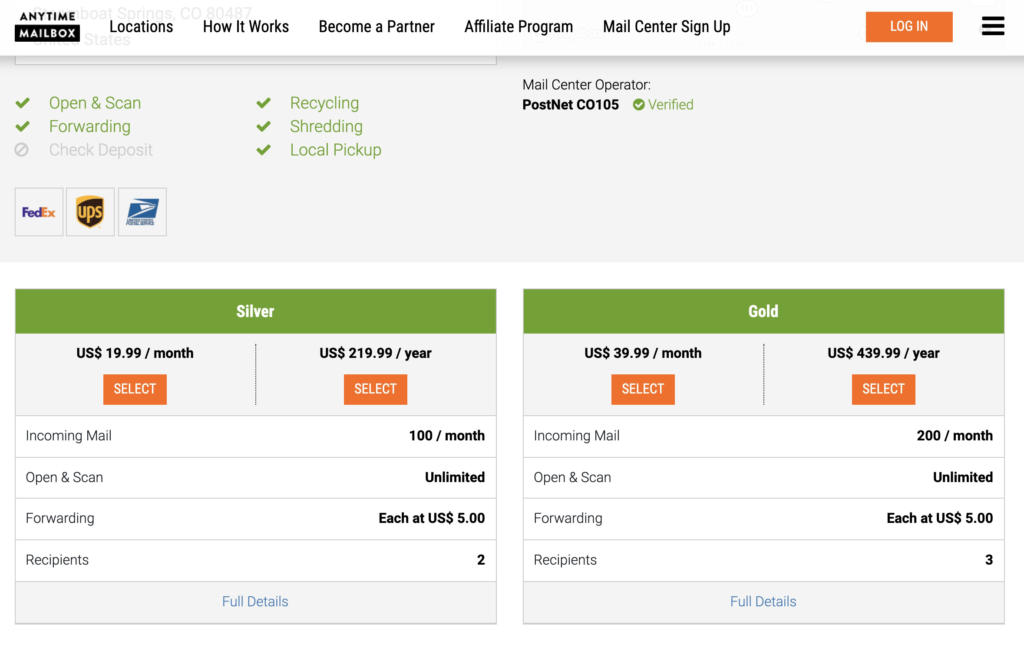 But in addition to the monthly/annual cost, there are fees to use some of the services.  So depending on your needs and your volume of mail, you may end up paying a lot more than that.
And each plan will have certain allowances (or limits) set on the number of mail items, requests, and users.  Our plan allows 2 recipients, but more can be added for an additional fee.
The additional fees and allowances for our Silver plan are as follows.
Incoming Mail Items: 100 mail items per month included free, and $1.00 for each additional mail item
Open & Scan Requests: $2.00 per each page requested
Recycle Requests: Unlimited, Free
Shred Requests: Unlimited, $1.00 per request
Forward Requests: $5.00 per request + associated shipping costs
Pick-up Requests: Unlimited, Free (only during business hours)
Storage Physical Mail: Free storage for 30 days, then $0.05 per item per day
Storage Digital Scans: Unlimited, Free
Authorized Recipients: 2 included free, $10.00/month for each additional recipient.
So, as you can see, those fees can start to add up really quickly if you have a large volume of mail and requests.  Luckily most services today allow you to sign up for paperless.  It is in your best interest to make sure you receive as little mail as possible.  So we sign up for paperless wherever we can.
However, one of my biggest PET PEEVES is when you sign up for paperless, and then the company STILL sends you paper mail anyway.  UGHHH.  Many companies by default keep all customers signed up for their marketing & promotional mail.  But usually, some digging around the settings on their website or an angry call to customer service can get you to "essential mail only".
Our box has a limit of 100 mail items per month.  And even with the two of us, we never come anywhere close to that number.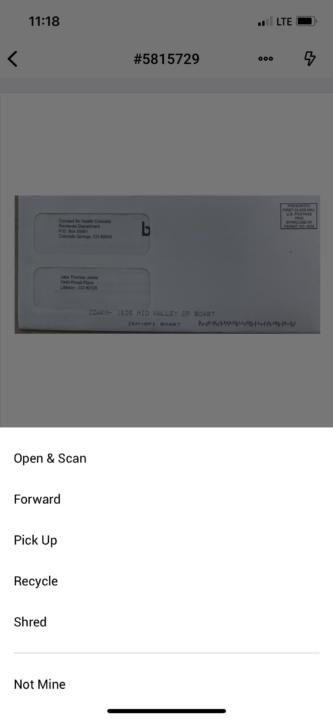 Our largest fee category is definitely Open & Scan Requests.  At $2.00 per page, it can really add up quickly.  With Anytime Mailbox, you initially only get to see the front of the envelope.  And sometimes that's not enough information to tell if a piece of mail is important or not.
And there isn't a way to tell Anytime Mailbox to only scan the important page(s).  So sometimes you end up paying extra to scan all the "fluff" pages when you really only need one.  Or you pay to scan something that is basically junk mail.  That's why it's important to keep your inbox limited to only essential mail as best as you can.
We basically just recycle (free) most of our mail and only shred ($1.00) things that seem especially confidential.  If you had lots of sensitive mail that required shredding, that category might start to add up.
We have only used Anytime Mailbox to forward physical packages a few times.  They charge a $5.00 fee plus shipping costs which is relatively fair.  The service is prompt and reliable.  But as I mentioned before, we typically opt to ship things directly to our current location rather than using Anytime Mailbox as a middleman.
The Bottom Line | Anytime Mailbox Review
So to give you the full picture, in the last year we paid an additional $104 in request fees.  However, that does include a couple of instances of physical package-forwarding which accounts for about half of that cost.
But all together in a year the subscription price plus fees cost us $323.99 or about $27 per month.  That's nothing to sneeze at.  Anytime mailbox advertises prices starting at $5 per month. But clearly, that is the best-case scenario with one of their cheaper boxes and very limited additional fees. A more realistic number is probably closer to our price.
Despite the price, it is a great convenience to have a constant and reliable all-in-one mail solution.  When we are not paying rent or mortgage, it is a little easier to justify the expense.
---
Real Street Address
So what does our address actually look like?  Here's a close example (not our actual address)
Suite #1234, 12 Valley Dr #1
Steamboat Springs, CO 80487
Anytime Mailbox insists that the address be formatted exactly this way.  So it's not totally perfect.
The suite number comes on the first line in front of that street address, instead of on a second line like most people are used to.  And there's also the awkward #1 at the end of the address line.  
At first, I was skeptical that this address would work for vehicle registration, voter registration, and as a mailing address.  But I can report that it does work for the most part.
Sometimes online forms have a problem with the formatting and try to force the Suite # onto a second line.  Or they won't let you continue unless you accept their formatting.  If you speak to a human, you can usually insist they use your formatting.  But even when the two are switched, the mail still arrives so I guess it hasn't really been a problem.
---
Vehicle Registration With Anytime Mailbox
The other great perk of Anytime Mailbox is that we can use it for vehicle registration.  When doing full-time vanlife, you still need an address to register your vehicle.  And PO boxes just don't cut it.
And one benefit of choosing the location of your registration is that you are also choosing which zip code you pay car insurance for.  We decided to keep Colorado as our "home state", and most of the mailbox locations are in Denver and the surrounding metro areas.
But we chose a Virtual Mailbox location in Steamboat Springs, Colorado.  Car insurance is much cheaper in rural Steamboat Springs than it is in Denver.  I forget the exact figures, but I know we save hundreds of dollars per year by being registered in Steamboat.  No need to pay the expensive "city" insurance rates, when we barely spend any time in cities.
---
Voter Registration With Anytime Mailbox
The other perk of Anytime Mailbox's real street address is that it can be used for voter registration.  All mail ballots will be sent to our mailbox.  But no, they don't offer a service to fill out your ballot for you.  But we also sometimes choose to have absentee ballots to be sent to our current location if we can muster up a good address.
But be aware that you will receive the ballot with the local races and issues.  So you may not feel inclined to vote on local ballots in a community where you don't reside.  We typically reserve our voting to the state and national levels.
I wrote an entire post dedicated to Voting for Nomads if you want to learn more about the topic.
Also keep in mind that you may be served a jury duty summons at your virtual mailbox address. If you aren't able to reasonably make the summons, there are typically a few options to be excused.
---
Need A Notorized Form 1583 To Get Started
In order for someone else to legally handle your mail, you need to fill out a USPS Form 1583.  It basically allows someone else to receive and open mail on your behalf.
Then you need to get your Form 1583 notarized.  To do so you need two forms of ID, at least one photo ID, and one address matching your current address.  This could a bit of a problem for nomads, since we don't always have a current address with matching ID's.  But even after living on the road for a year, we didn't have a problem with this step.
You can use an in-person notary or an online one.  We decided to just use Notarize.com.  They charged $25 and were able to help us quickly over video chat.
---
Conclusion | Anytime Mailbox Review
Using a virtual mailbox service like Anytime Mailbox is an incredibly valuable service for people living nomadically.  Anytime Mailbox is great for vanlife. But it can also be useful for expats, businesses, or people who can't receive mail where they live. There are some serious challenges that come from living without a stable address.  Anytime Mailbox can provide that stable address as a solution to many of those challenges.
And beyond just a stable and reliable address for mail, you can also use it for credit cards, bank accounts, and vehicle/voter registration.
Admittedly, the price for Anytime Mailbox is pretty high.  We personally are looking at an average cost of about $27 per month (give or take depending on usage).  But when we are living full-time in our campervan with no rent or mortgage, it's easier to justify the cost.  And luckily we are able to keep our snail-mail needs to a minimum, which helps keep our costs down.
If you're looking for a cheap way to get physical packages on the road, Anytime Mailbox probably isn't the solution.  Don't get me wrong, it is reliable. But it's a little redundant to have your package shipped to your virtual mailbox, and then again to your current location. You will have to pay for shipping twice, plus the $5 flat-rate fee. If you are trying to get physical packages on the road, using one of the methods outlined here is probably your best bet.
Overall, we find Anytime Mailbox to be an extremely valuable service. It helps solve some of the biggest challenges of living nomadically. Having a stable address for mail, accounts, and voter/vehicle registration is worth the cost for us.