Scala Hosting Promises to Be "The Next Step in Hosting Evolution," but Does It Actually Deliver?
Can a little-known web host come out of nowhere, challenge the industry giants, and beat them at their own game?
That's exactly what Scala Hosting claims to do, and while I do love me a good underdog story, I'm also a huge skeptic. An excellent web host has to do so many things right, and most companies simply don't have what it takes.
Let's dig a bit deeper. Scala Hosting hails from Dallas, Texas, and offers scalable (hence the name – Scala) hosting plans, from simple shared hosting to advanced managed VPS solutions. It operates two data centers, one in its hometown of Dallas and the other in Sofia, Bulgaria.
Everything looks great on paper, but I had to see for myself what the service was all about. That's why I signed up to the basic plan and methodically checked each and every aspect of Scala Hosting. I put the company's support service to the test multiple times and ran various performance diagnostics.
My conclusions? While it's not perfect on every level, Scala Hosting is definitely impressive. Read on for the full coverage and see if it's right for you.
Abundant Resources and Excellent Security Measures
Scala Hosting offers three types of hosting to choose from: Classic shared hosting, managed VPS (virtual private server), and self-managed VPS. For small to medium-size websites, from personal blogs to more advanced business pages, the shared hosting plans will be more than enough.
VPS, whether managed or unmanaged, is where the big boys come to play. Among its many benefits, a VPS can comfortably house popular e-commerce stores and content portals. There's almost no limit to what a VPS can do – by scaling up its resources, you'll always be able to handle more traffic and visitors.
I noticed the absence of dedicated servers and was actually very happy about it. It's the most expensive kind of hosting available, because you're given full control of a physical server (shared and VPS plans share a server's resources with other customers). Very few websites need such dedicated solutions, and providing them is usually a classic case of a web host overreaching.
So, focus is the name of the game with Scala Hosting. Count me as a fan. A jack-of-all-trades company is a recipe for disaster.
Let's start with the shared hosting plans. Two subtypes seem to be available – web hosting and WordPress hosting – but in reality, there's no difference between the two. I'll simply refer to them both as "shared hosting" from now on. Shared hosting comes in three plans, with the main variables being available disk space and extra features.
I went with the simplest plan, Mini, and received a whopping 10 GB of storage space. This is enough to host thousands of HD images, hours of HD videos, and a limitless amount of text. Still itching for more? The other two plans come with unlimited disk space, as long as you adhere to the fair use policy (this isn't your remote backup drive).
A minor downside is that Scala Hosting's plans aren't 100% SSD. All around the world, SSD is replacing the older and slower HDD drives, but as of today, Scala Hosting is still in the midst of upgrading its storage drives. While this had the potential to affect speeds to some extent, I personally didn't notice any slowdown whatsoever.
Moving on. Great features like cPanel, free website migrations, unlimited websites, CMS (content management system) auto-installers, backups, and SSL certificates are available with all three plans. SSLs are a must for any serious website owner, as they encrypt your visitors' connections and ensure their privacy. With an SSL certificate, your site will also enjoy that nifty-looking padlock in the address bar.
So far, so good, but before we delve deeper into some really special features, I do have to mention that the feature list Scala Hosting advertises isn't 100% up-to-date. Some interesting features, like the SpeedBoost Cacher, are nowhere to be seen. Others, like the free SEO tools, are just links to a third-party SEO suite by the name of Attracta.
Powerful VPS Machines and the SPanel Control Panel
I mentioned earlier that a VPS has a lot to offer you, so let me expand on that. With regular shared hosting, you share the server's resources with many other users. That means that there's always the possibility that you won't have enough CPU power or RAM memory to fully run your site.
Because you're also sharing your IP address with your hosting neighbors, there's the added risk of getting blacklisted for their activities. For example, if another shared user on your server sends spam marketing messages, or even offers pirated downloads, you'll all get blacklisted together. That means you not showing up on Google, and your emails going straight to spam.
A VPS solves all that, as you'll get private access to a specific set of resources. Usually, true to the Spider-Man motto, this newfound power comes with great responsibility. Compared to a shared hosting plan, the administration and management of a VPS can be much more demanding. Unless… you have SPanel.
SPanel, developed exclusively by Scala Hosting itself, is a VPS control panel like few others. It allows you to easily configure the amount of resources available for your websites, comes with built-in security software, and supports the uber-fast NGINX web server technology. It also includes must-have features like backups, usage statistics, and SSL integration.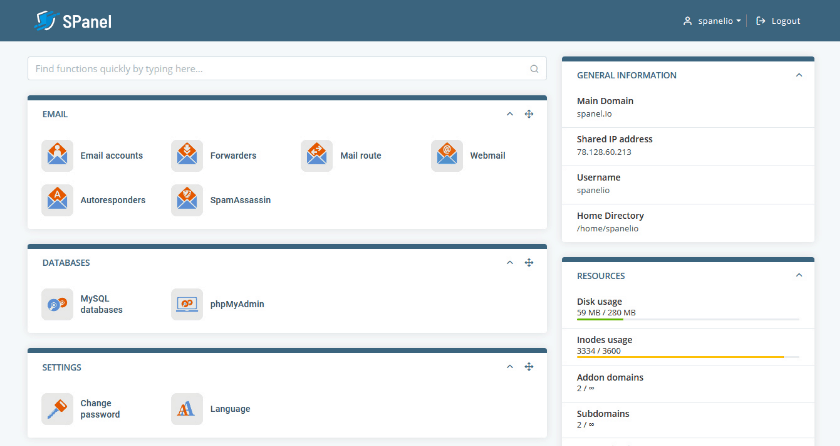 We're talking all the benefits of shared hosting, coupled with the power of having dedicated resources at your disposal. The price is only slightly higher than shared hosting, but we'll get to that later.
SShield Protection Keeps You Safe
No matter which type of hosting you end up choosing, you'll automatically be protected by Scala Hosting's SShield. It's a complete security system containing around-the-clock monitoring, and it currently boasts a 99.998% success rate in blocking attackers.
Think your website isn't going to attract attackers, and you don't have to worry about it? Think again. Every single person online needs to worry about hackers. They have uses for even the simplest of sites, though sometimes wreaking havoc is really all they're interested in.

Be smart and always choose a hosting solution that includes powerful security measures.
Access to WordPress Experts
Starting from the second plan (Start) in shared hosting, Scala Hosting offers a "Managed WordPress" service. To fully appreciate this cool feature, you first need to understand the norms in the hosting industry. The vast majority of web hosts today have a very specific definition of their responsibility to you. They provide the hosting and management panel, take care of the servers, and call it a day.
That means actually taking care of your website (that is, managing your WordPress installation and building your website) falls entirely on you. Run into a problem? Better hire an expert or roll your sleeves up, because most companies will not lend a hand.
With Scala Hosting, you'll have access to expert help with WP plugin troubleshooting, site errors, incompatibilities, and the many other time-consuming horrors that can (and will) plague your website.
Trust me, if you're not a WordPress expert or a master coder, you'll absolutely love this extra service.
From Signup to Managing Your Website, It's Easy as Pie
A great hosting service needs to be as easy to use as it is powerful, and Scala Hosting understands that. I wouldn't go so far as to call the experience seamless, but the very few hiccups I encountered were barely noticeable. It's a matter of mere minutes from signup to going live with your new website.
Choosing a Plan
Scala Hosting's homepage goes to great lengths in explaining the differences between VPS and shared hosting, complete with nice-looking graphs and graphics. It's all very simple to understand and contains all the information you need to make a decision.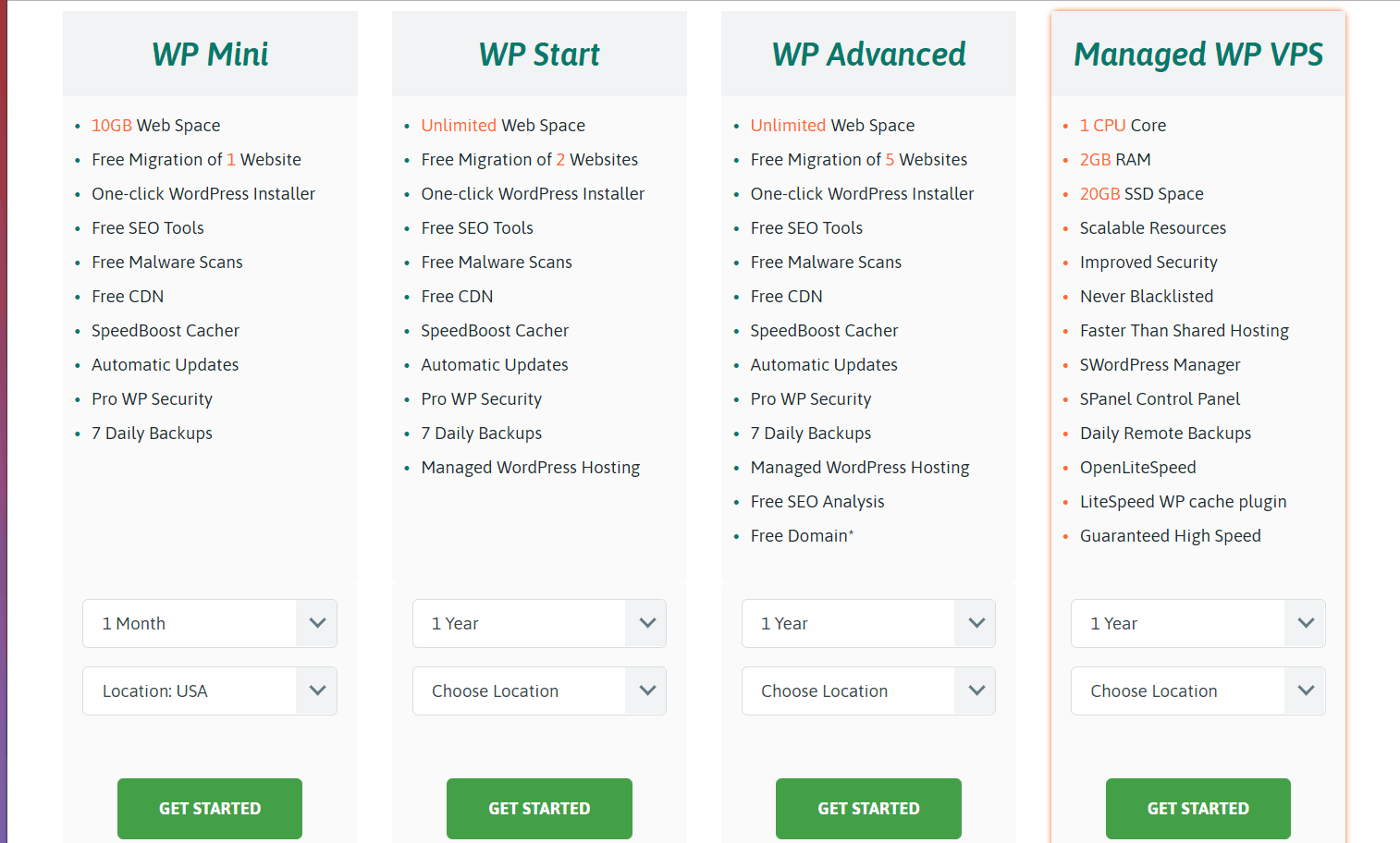 If you decide to go with shared hosting, you'll be able to choose between WordPress and web hosting, though as I mentioned before – they're the same. The three shared plans are clearly laid out for you to compare.
Creating a New Account
Click Get Started to start the signup process and you'll immediately be directed to the configuration page. Choose whether you want to use an existing domain, register a new one, or transfer one to Scala Hosting.
Next up is personal details. Scala Hosting does away with the full background checks so many web hosts seem to be fond of, and asks only for your full name and country. This saves time and saves you having to share details that are frankly nobody's business but yours.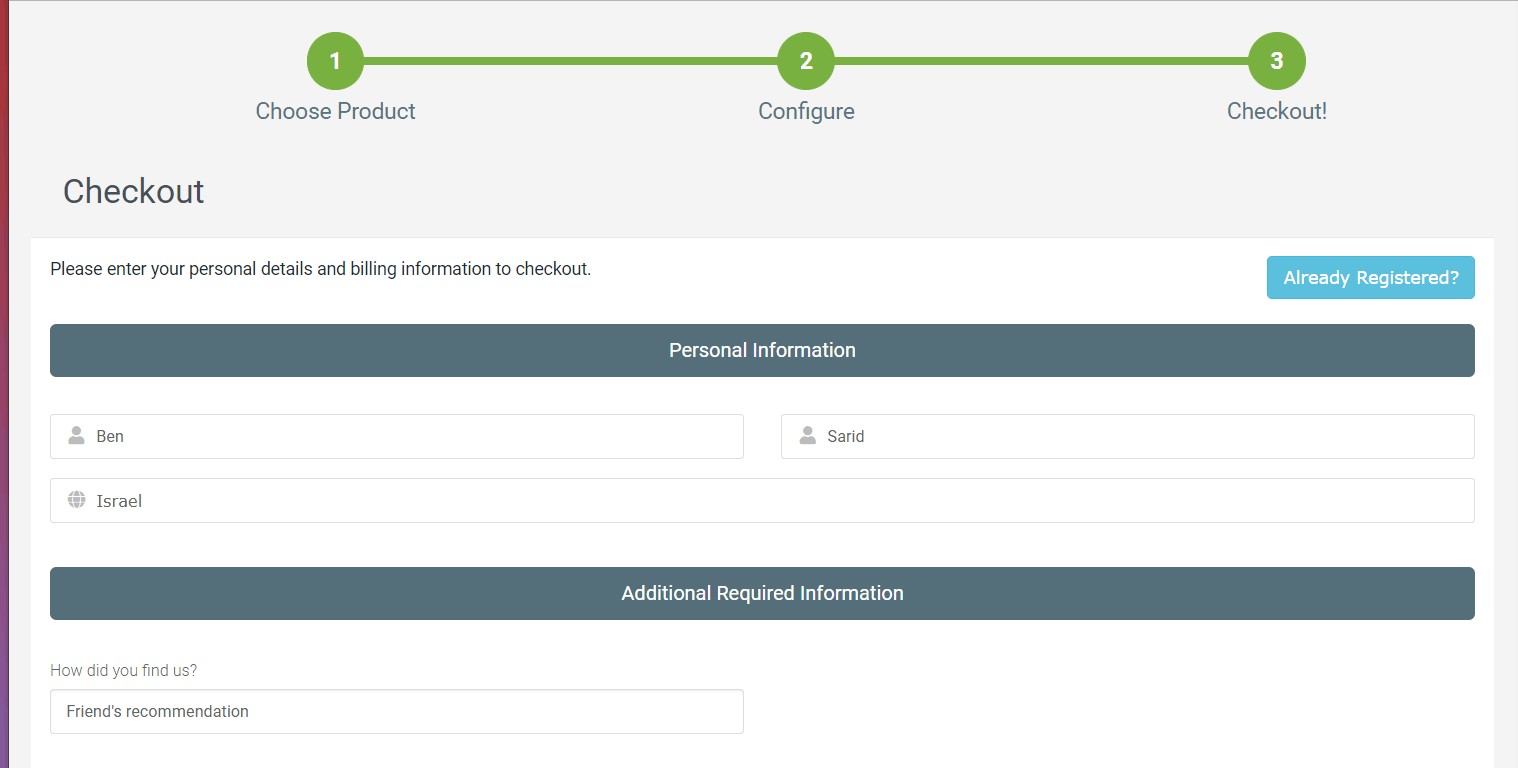 Finally, it asks for your email address, account password, and payment details. And… that's it. Account is created, hosting is activated, and we're ready to go. Doing a quick test of this entire signup process would probably take me 40 seconds.
Connecting a Domain and Installing WordPress
After logging into Scala Hosting's client area, you'll immediately notice how nice it is when a real designer thinks about how these things should look. The extra attention to detail really shows, and it goes a long way in making our lives as website owners easier.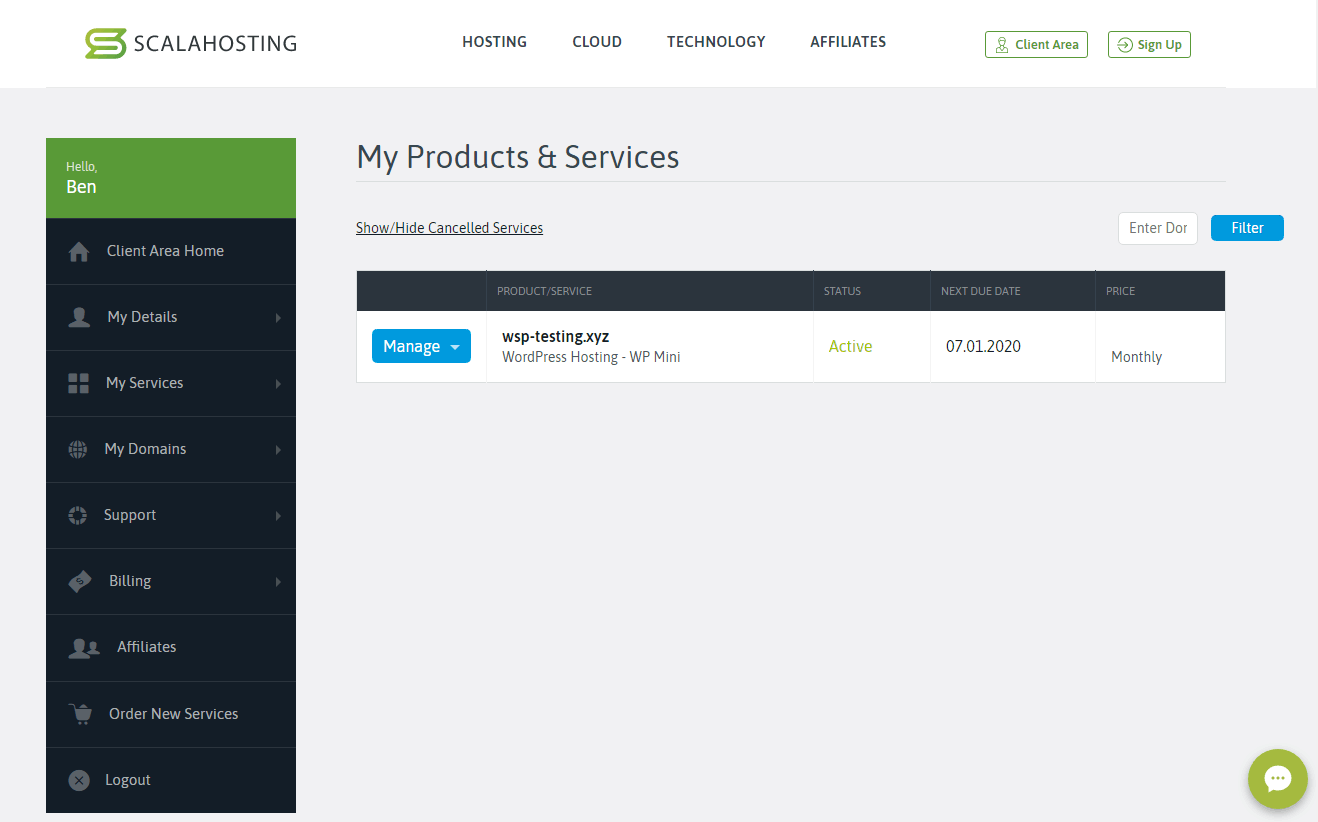 How simple is installing WordPress and connecting the domain? Well, as simple as the combined power of cPanel and Softaculous allows for it to be. For any of you unfamiliar with the terms, Softaculous is the industry standard for auto installers. It's really easy.
To get to Softaculous, navigate to your plan details and you'll be presented with a Login to cPanel button. Scroll down a bit to reveal a long (450+ long) list of available CMS for installation. I went with the obvious WordPress, but do feel free to choose any one of them, if your heart so desires.

Enter your website's details, choose a username and password (for the website itself), and hit the Install button. In about a minute, your new website will be live.
If you purchased your domain from Scala Hosting, this is it! After your domain gets propagated through the internets, you'll be able to access your website from the URL.
If you're like me and you like taking more of a "divide and conquer" approach, you probably have your domain registered somewhere else. I couldn't find the nameservers details needed to point my domain to, so I contacted support and asked for them. Had the nameservers been listed in my account area, I would've finished up this whole process in record time.
Easy Password Reset for Your Website
This is a really cool thing that Scala Hosting has implemented. Whether you decide to go with WordPress or some other system, you'll create an account for it. That's a username and password that you're bound to forget in, I don't know, ten minutes?
It happens to the best of us. I've probably clicked thousands of Forgot my Password buttons in my life.
WordPress' standard Forgot My Password sends an email to your mailbox for verification reasons. But what happens if the person working on your site (an Elementor expert you hired, for example), needs to reset the password? Obviously, you wouldn't want to give them access to your personal email account.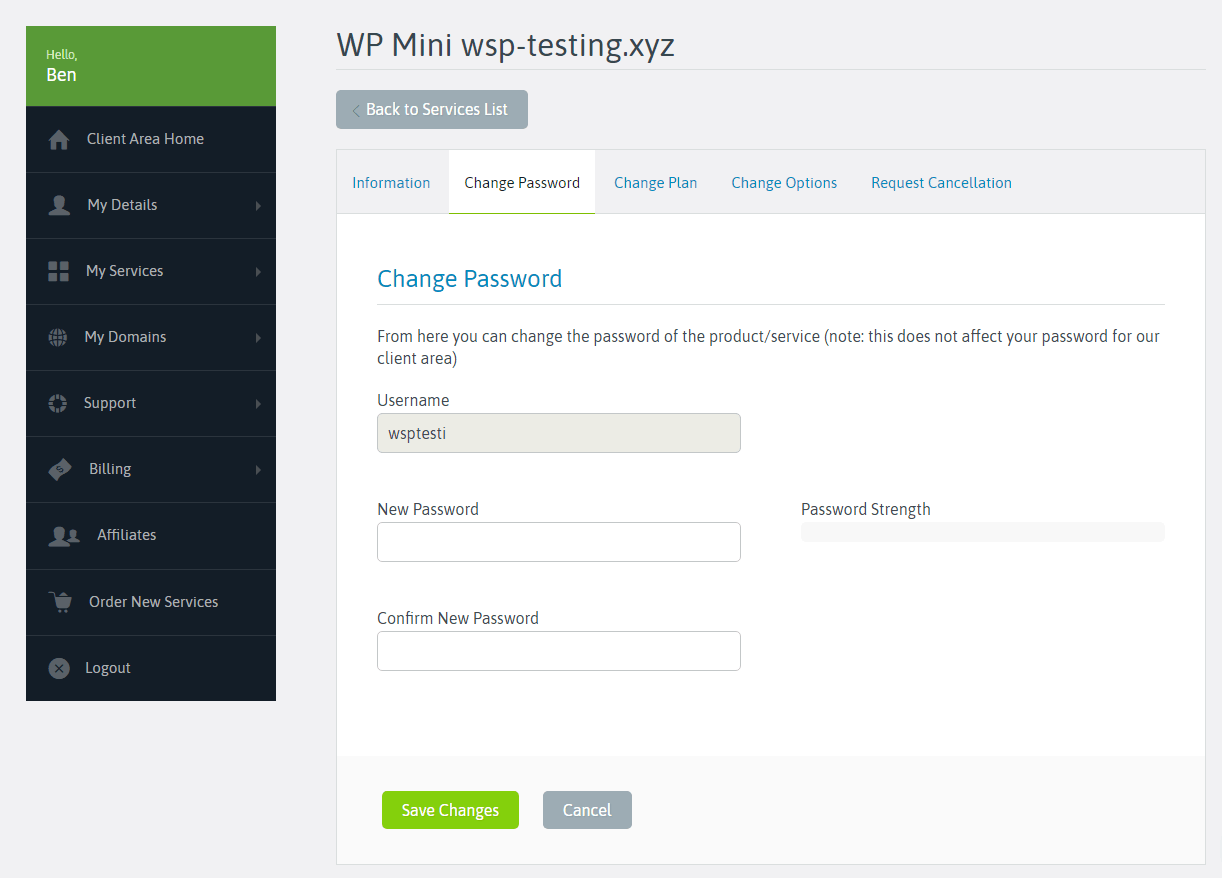 Scala Hosting's password reset solves this issue, while also making the process significantly faster. This might be a minor thing, but it just goes to show how this web host really took time to think about you and your actual needs.
So, can we call this a perfect user experience? Not exactly. Looking over the account area, you might notice some weird things, like this: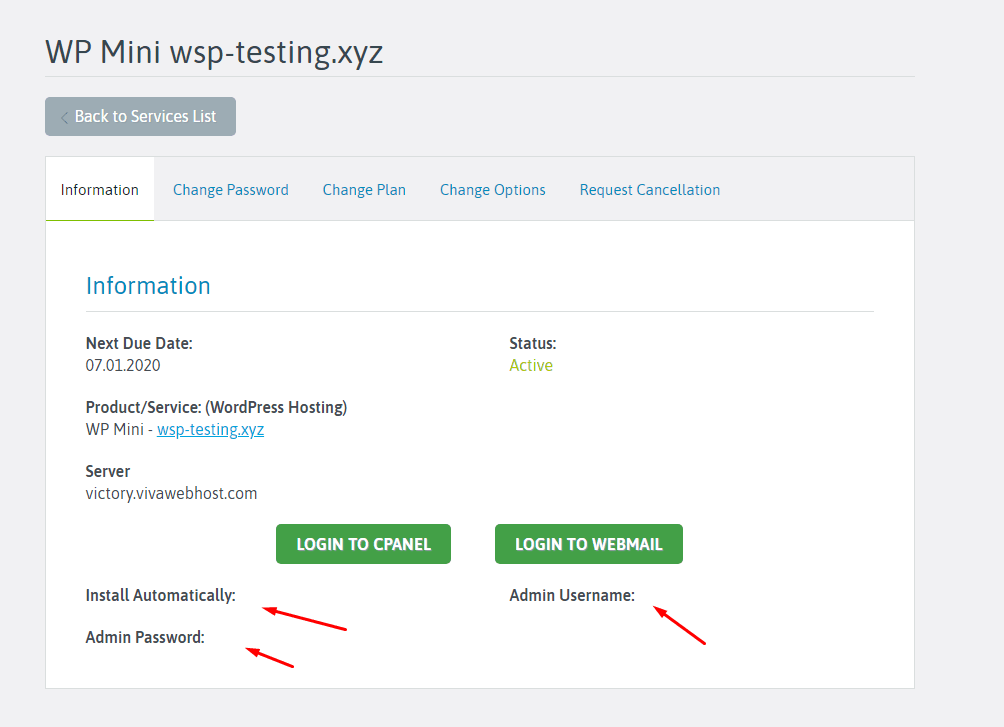 What is to be installed automatically? What admin password? Who knows. I guess there were some big plans here that never made it to the finish line. If the company takes care of things like this and lists the nameservers, we'll have ourselves a perfect score.
Strategic Data Center Locations Make for Speedy Loading around the World
Great features? Check. Easy to use? Absolutely. Next thing to test (and arguably the most important) is, of course, the performance. As always, I let the numbers talk – page loading speeds and uptime.
I ran a standard WordPress installation on my Scala Hosting plan, hosted in the company's Dallas data center. I uploaded a customized SimpleShift theme, complete with text and some non-optimized HD images, to get a good idea of how your website will perform.
As I do with all web hosts, I extended Scala Hosting the courtesy of making optimizations. The support agent went ahead and added GZIP compression and browser caching. He did not mention the non-optimized images. The following performance tests were conducted after optimizations have taken place.
After monitoring my test website's uptime for a month using UptimeRobot's tracking tool, I ended up with 99.72% uptime. This is mainly due to short periods of unavailability (around 10 minutes) every few days. Scala Hosting does advertise a 99.9% uptime guarantee, so I was a bit disappointed by the result. After contacting the company about it, I was actually reimbursed for 20% of my monthly fee!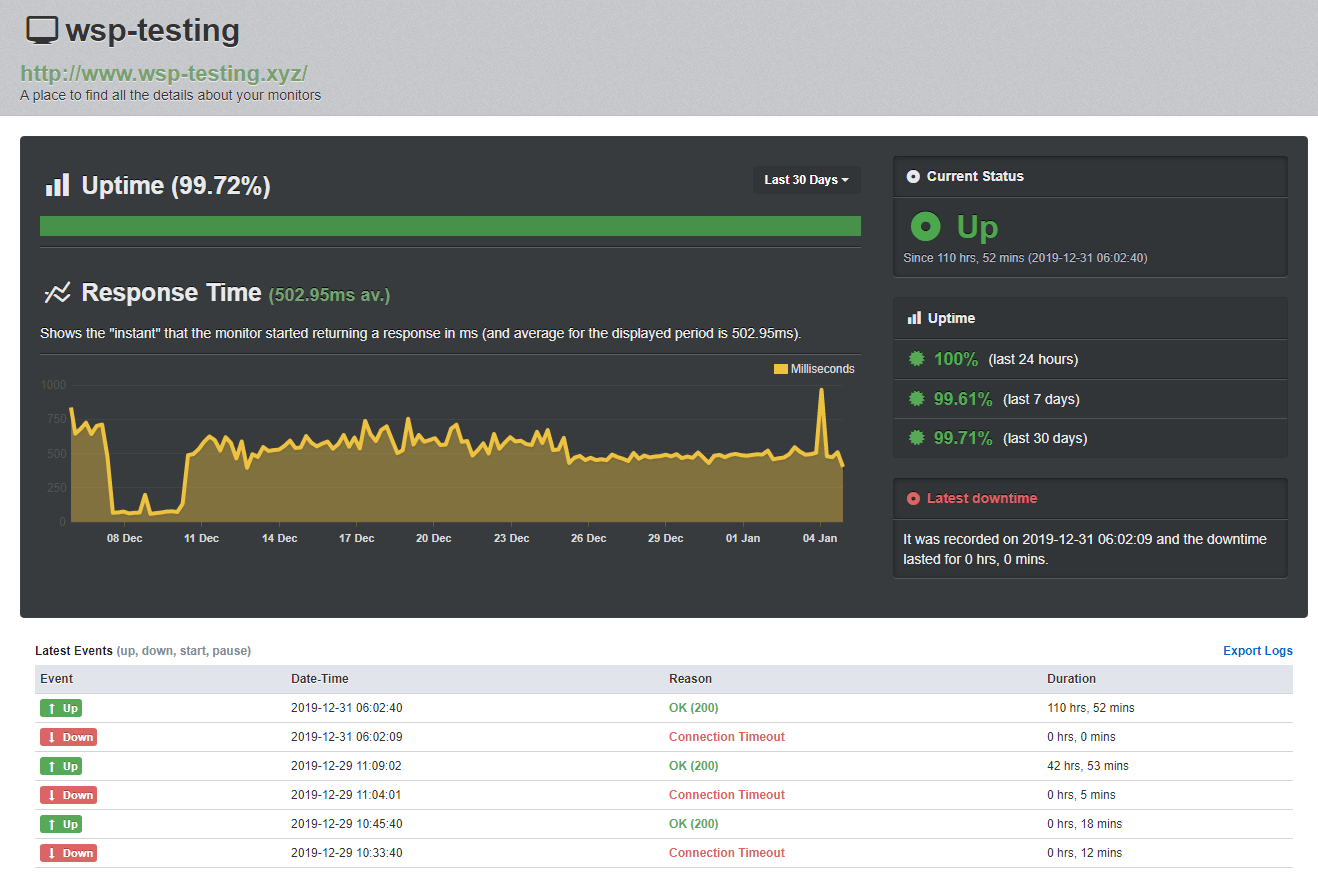 While 99.72% uptime is by no means bad (many web hosts barely make it to 99%), I do hope Scala Hosting provides even greater reliability in the future. Still, the company's adherence to its uptime guarantee is extremely comforting.
What about speeds? I ran a GTmetrix test to gauge the performance of my website, and the results were impressive – a B PageSpeed ranking and only 1.2s till the page was fully loaded. Had I optimized the HD images (which you should always do), it would've been an easy A ranking and had even faster speeds.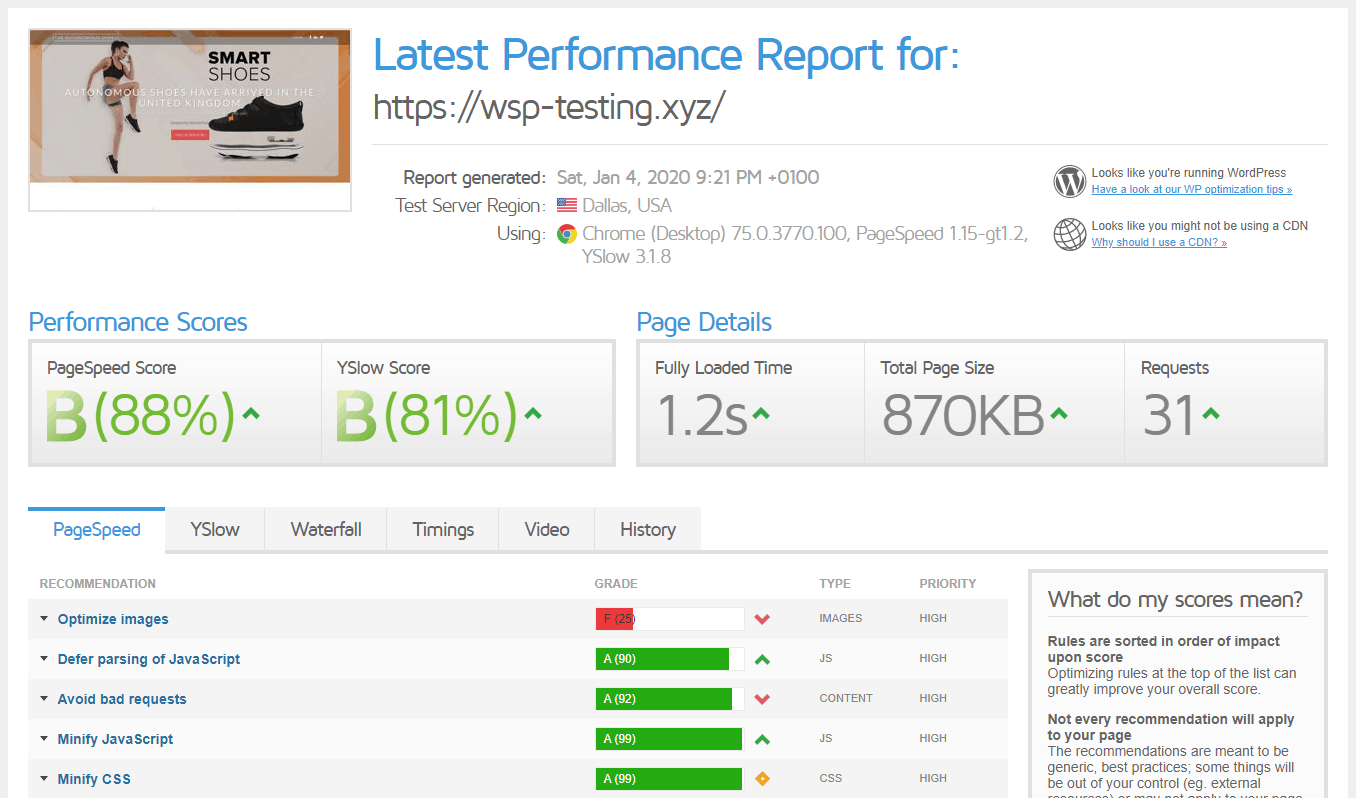 Testing from other GTmetrix locations, like Vancouver and London, also resulted in short loading times. To get a better idea of international performance, I ran the Sucuri Load Time Tester: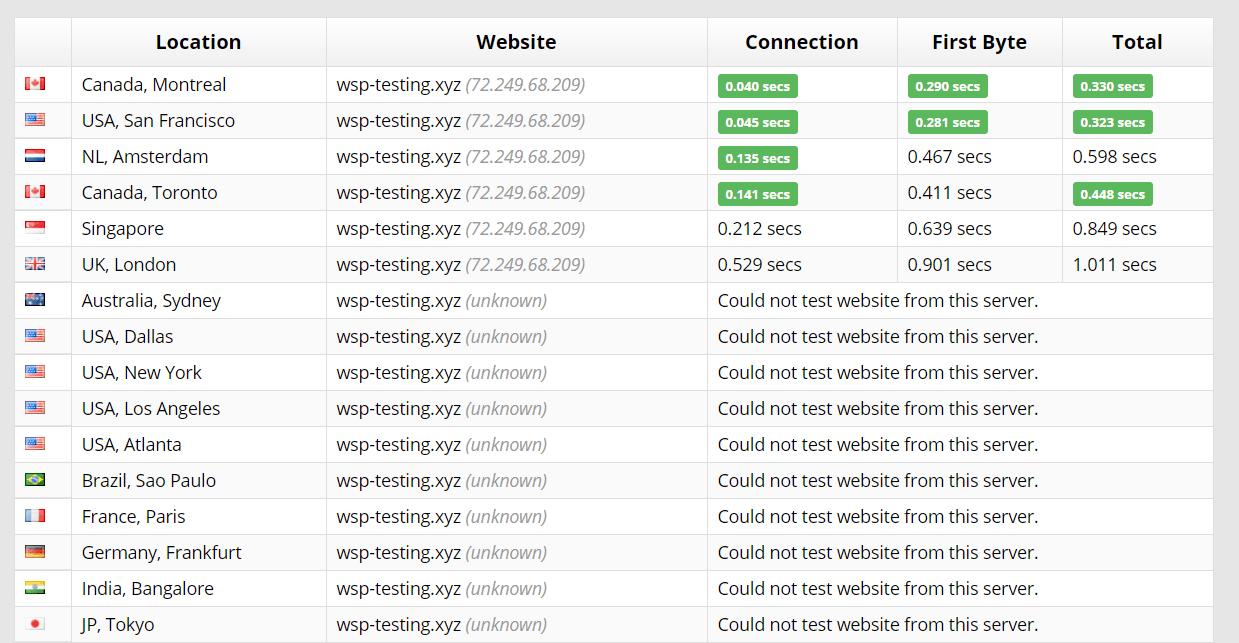 Sadly, most servers returned a "Could not test website…" response. This isn't a bug or a performance issue, but actually a sign that Scala Hosting's firewall is working overtime and taking extra care with incoming connections from monitoring services. Don't worry, this will not affect your visitors.
What can we learn from these partial results? That the Dallas-based hosting indeed works best in North America. Speeds are decent even across the pond, but loading times do get higher for visitors from farther away.
Luckily, that's not the only data center Scala Hosting operates. While many other US-based web hosts maintain data centers in the US only, Scala Hosting understands that there's a whole world beyond the two coasts. Enter the company's second data center in Sofia, Bulgaria.
This second location basically doubles Scala Hosting's reach. Eastern Europe, the Middle East, and even parts of Asia are all assured great speeds. You just have to think ahead and choose your data center location wisely – if you don't make the choice yourself, the company will choose it for you based on availability.
A Decent 24/7 Service with Actual English Speakers
Scala Hosting operates an around-the-clock support service, available through live chat, tickets, email, phone, and a knowledge base. During my initial research of the company, I couldn't help but notice that people were extremely happy with the support they received. This was intriguing, as I usually find support interactions to be quite headache-inducing.
Why do I feel that way? Because most companies have long since outsourced support to third-rate call centers in cheap-labor countries, where agents command neither the English language nor the basics of hosting.
Imagine my surprise upon hearing that Scala Hosting keeps all support in-house. Not only is the support staff part of the team, they actually work from the same Texas office. Excited about the prospect of having a good support experience, I promptly proceeded to bombard the agents with questions.
My first interaction was through live chat, before signing up. Disguised as my testing alter-ego, Avi, I asked in detail about the different plans and features. I got an instant reply and found the agent to be extremely patient and quite knowledgeable. Whatever she didn't know, she took the time to research and check before answering.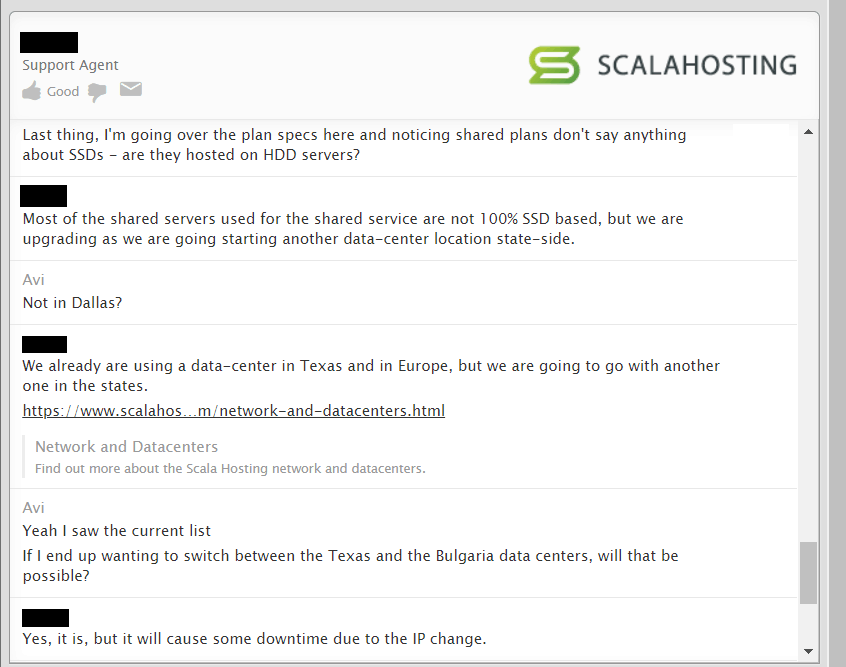 The only problem? The agent wasn't actually correct in everything she said. I asked about the differences between the web hosting and WordPress hosting plans (reminder: they're the same), and was told WordPress comes pre-installed on the WP plans. I guess she didn't get the memo, as nothing comes pre-installed.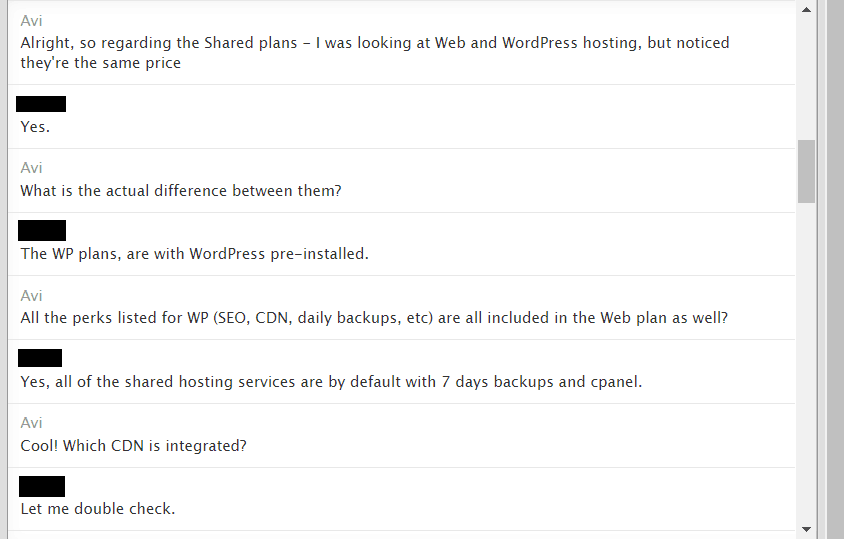 Another agent later confirmed that this was a mistake, and that there's no difference between the two:

After signing up, I contacted support through the ticketing system. I couldn't find the nameserver details anywhere, so I asked them to help with connecting my domain and hosting. The agent replied in four minutes, much faster than the usual one to two hours I've come to expect from support tickets. He supplied the nameservers and also informed me that I had to add the domain in cPanel. That didn't sound right – I knew the only thing needed was to update the nameservers for my domain.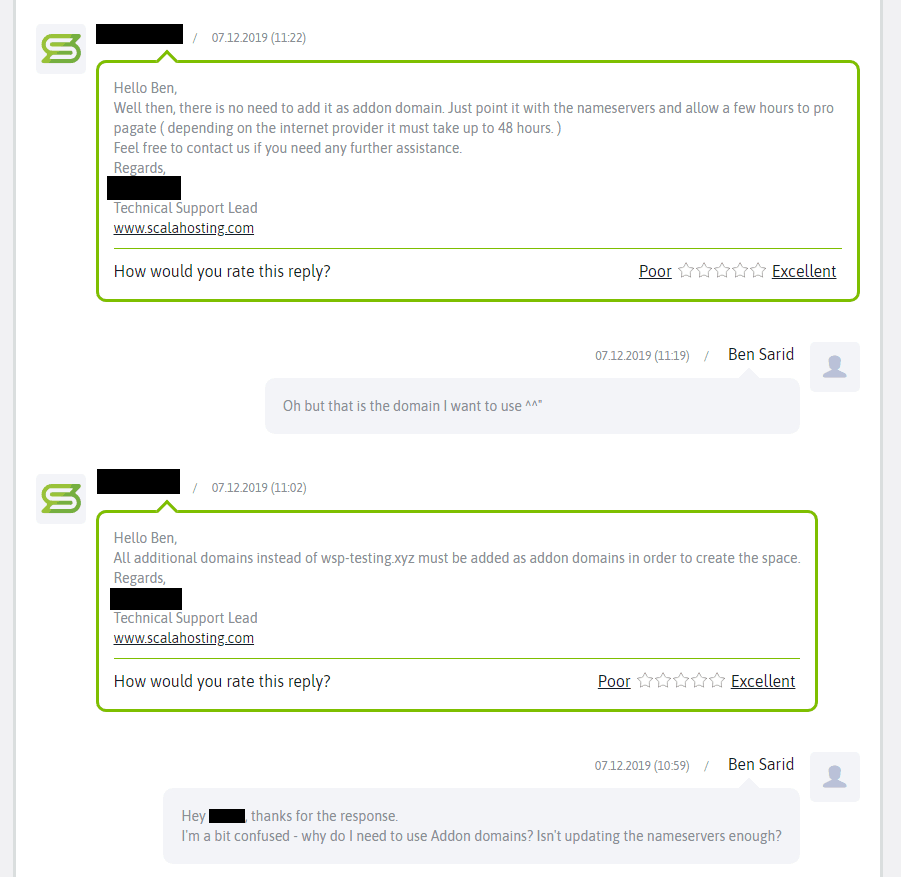 After expressing my confusion, I was answered by the lead support agent. He explained that I was right. Huh.
My last interaction with support was again through live chat. I wanted their help in optimizing my website, but the agent wasn't so keen on helping out. After writing that other web hosts did help me with this, he said he'll make an exception.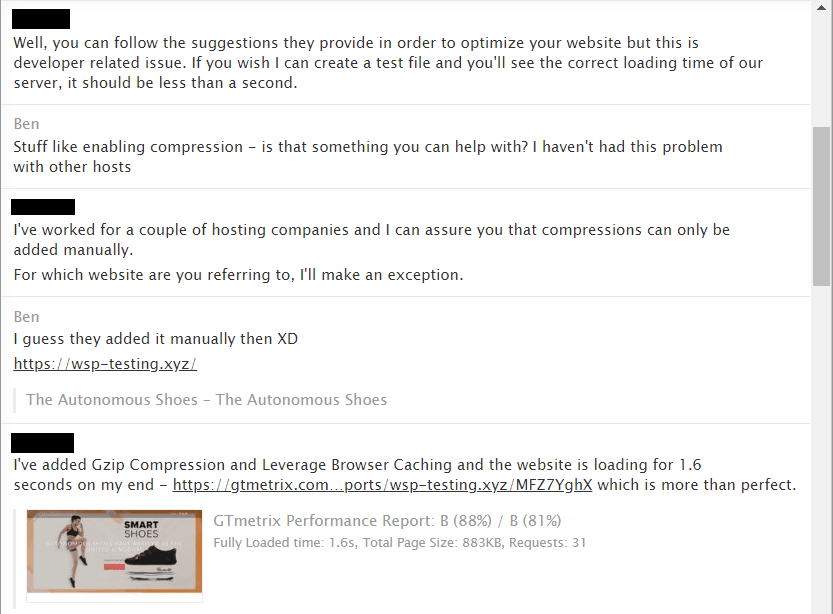 Later in the conversation, when I mentioned how I couldn't find the SpeedBoost Cacher that was advertised in the plan details, the agent was singing a different tune: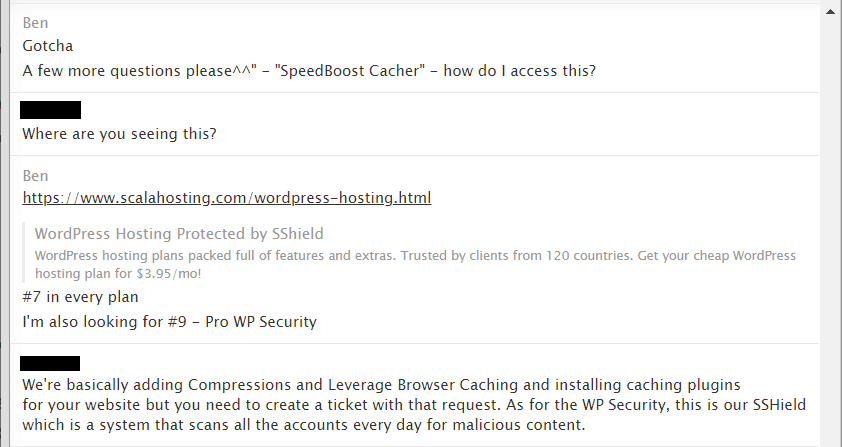 So, which one is it? Did he make an exception for me, or is it part of the service? Was he trying to avoid helping, or was he unsure about his own responsibilities? God only knows.
This whole support experience left me slightly confused. They spoke English and were all very nice, but it seemed like there was something missing in every interaction. It's not that they're doing a bad job, it's just that I feel they can do better.
Shared and VPS Plans Are Attractively Priced
Scala Hosting's pricing structure is simple – three plans are available for both shared and VPS hosting, with advanced plans including better resources and more features. The price of shared plans is pretty much in line with the industry average.
The situation is a bit more complicated with the managed VPS plans. At first glance, they may seem a tad pricey, but it really depends on how you intend to use them. If you plan on creating multiple hosting accounts on the same VPS (for clients or yourself), then using Scala Hosting's SPanel will make things significantly cheaper.
Most companies offer cPanel as their VPS management panel, and cPanel becomes more expensive as you add more users. With SPanel, the price is standard, whether it's one user or 1,000. Moreover, you can customize your VPS setup to fit your exact needs and pay according to your selected resources.
Whichever plan you decide on, you'll be able to choose monthly, three-month, six-month, or annual payment periods. Shared plans come with a free domain if you sign up for six months or more, and a yearly commitment will net you a 29% discount.
Generally, upsell attempts are not a problem with Scala Hosting. Just remember that the SEO tools "offered" are actually part of a different service called Attracta, and that trying to use them will redirect you to a sales page. You do not need to buy this: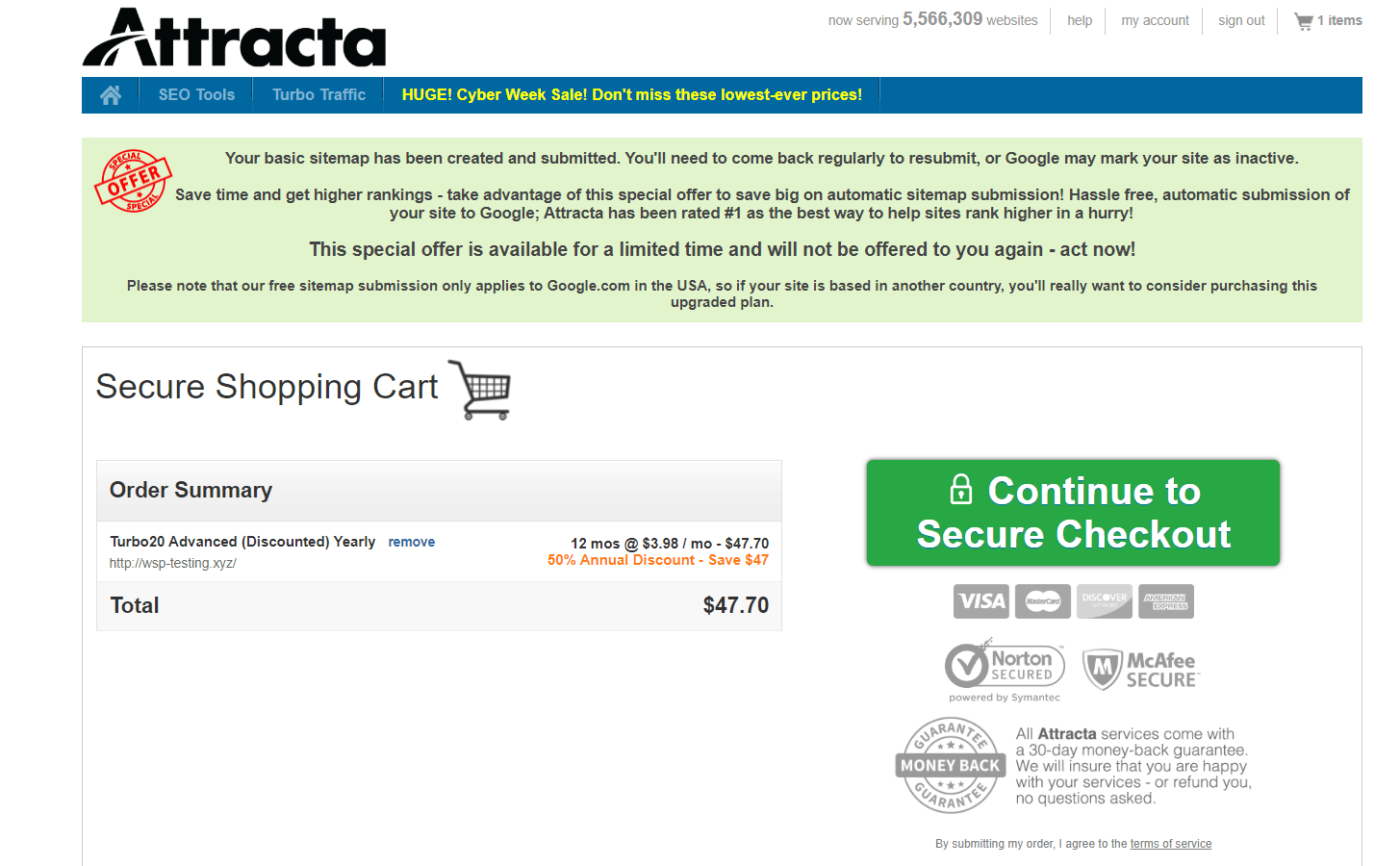 All Scala Hosting plans have a 30-day money-back guarantee, and payment can be made using PayPal, all major credit cards, or even a bank transfer.
Canceling Your Account
I had my fun with Scala Hosting, but after a month of intense testing, it was time to deactivate my account and move on.
Asking for the refund seemed hopeless, because I was way past my first 30 days. Still, I gave it a try.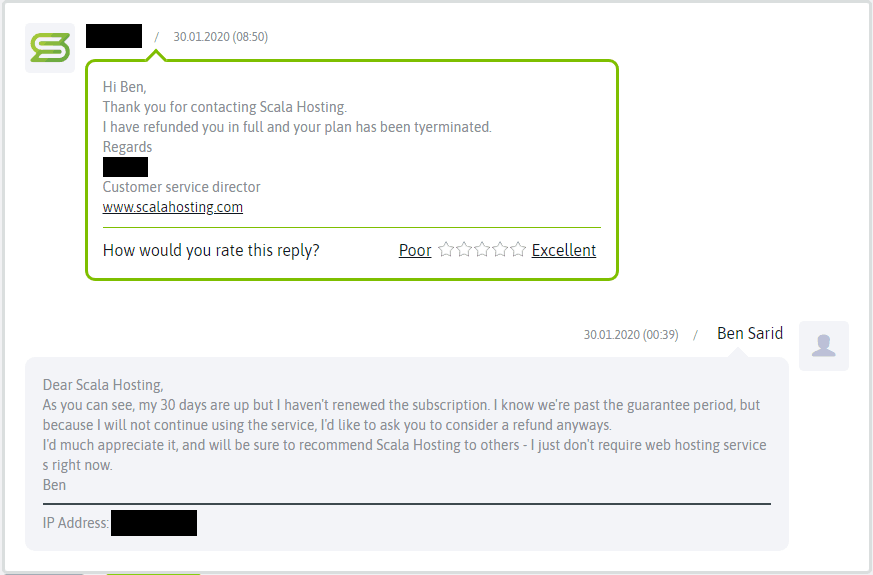 Lo and behold, a support agent quickly replied and wrote that he refunded me in full! This is simply as fair as can be. Within a day, the money was already back in my PayPal account.
Scala Hosting was not bound by any terms of service to refund me, but it happily did. I walked away a very happy customer.
Scala Hosting Web Hosting
Scala Hosting VPS Hosting
Scala Hosting Reseller Hosting
Scala Hosting WordPress Hosting
Scala Hosting Cloud Hosting
A Free Domain is included when purchasing any hosting service from Scala Hosting