Altus Host Review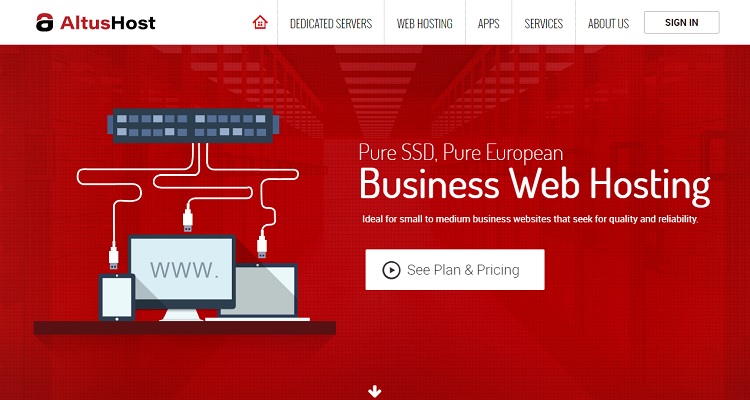 AltusHost has so far given me confidence in the products they offer. Despite some nit-picking here and there, I truly believe that AltusHost does offer a strong value proposition. Not only are the plans available well thought out, but their servers also show strong performance when taken in context. This especially applies to business customers.
To compare the best web hosts, we hosted the same WordPress website on each one and tested performance, customer service, and value for money. Check out the results here.
AltusHost has been competing to be recognized as the top managed web hosting service since 2008. They focus on quality customer service, uptime, and competitive prices. AltusHost has some of the fastest servers on the market and a strong presence in Europe, with data centers in the Netherlands, Bulgaria, and Sweden. To date, AltusHost has served more than 10,000 satisfied customers.
Features and Ease of Use
Unlike many of their competitors, AltusHost does not rent or resell hardware from large providers. They prefer to use their own technology to make sure they are in full control and everything runs smoothly. This gives them a unique edge in the market, as they have a keen understanding of their product and how best to tweak their services to give their users the best customer experience possible.
While they focus mainly on dedicated server packages for enterprise-grade customers, they do have an array of plans for smaller companies and individuals. For starters, their entry-level cPanel shared hosting plan affords small to mid-sized businesses the following:
10GB SSD storage
Unlimited bandwidth
5 hosted add-on domains
Automatic daily backups
SSL certification
Softaculous app installer with 300+ available apps
They also provide a free website migration service and a website builder, both of which were nice touches on an entry-level package.
What I appreciated most about their shared hosting service, however, was the level of performance and support that comes even with the most basic package. Every user account enjoys a LiteSpeed Web Server installation, which ensure that servers operate several times faster than the typical Apache Web Server installations that most other providers sport. Also, their CloudLinux operating system eliminates many of the resource allocation issues a typical Linux shared hosting OS would have, so even on a shared hosting account, your website's performance won't take a hit when other websites on the same server get a surge of traffic.
AltusHost also offers VPS hosting packages for businesses that have outgrown their shared hosting plans but don't yet require the level of performance that dedicated servers would provide. These VPS packages are fully managed, with the option of either Windows or Linux as an operating system. Plus, with AltusHost VPS hosting packages, you get full root access to your virtual servers, and you can also reboot your power panel remotely without contacting customer support.
Pros: What I Like About AltusHost
1. It's a Fast And Reliable Host
This comes right out at the top and is typically at the top of my "must-have" list. If a web host isn't able to perform, all the features and best pricing in the world isn't going to rescue it from disaster. Thankfully, AltusHost isn't one of those.
I've been maintaining a token test site on AltusHost and keeping an eye on it. So far, performance seems quite remarkable and it does come out tops in random speed tests. The BitCatcha speed test tool typically returns an A+ grade for them.
2. Excellent Choice for Euro-targeted Traffic
Building further on the speed results comment, site owners who are looking to target eurozone traffic will be impressed. Having data centers in a specific area does not always guarantee better performance for nearby visitors.
In the case of AltusHost, they show remarkable response speeds in the region. The speed test nodes in London and Germany picked this up with response times of 10ms and under. If you're serving euro traffic, this is a highly viable option.
3. Reliable Availability of Service
AltusHost offers their customers a 99.9% uptime guarantee which is acceptable as a basic industry standard. Our own observation though is that the number merely serves as a buffer zone for them – their service quality far exceeds that.
Over the past 30-day period, I've seen no instance of service outage even while monitoring them with automated tools. That means literally a 100% uptime over the most recent period.
They're also very transparent about their data center performance and availability. If you dig into their knowledge base, they offer information that can help you run network tests on both the data centers they operate out of.
4. Generous Resource Allocation
When looking at most web hosting plans, buyers are typically drawn to prices first – after all, that's what is normally displayed most prominently. You really should drill down to detail though since that is where you find what you get (or don't get, as the case may be) for the price.
AltusHost makes extremely generous allocation of resources even for their Shared plans, although these aren't labelled as such. They call them Business plans and apart from the measly 20GB of storage space for the starter account, everything else comes in spades.
For example, you have access to two CPU cores and 2GB of RAM on their most basic hosting plan. This is considered as above average compared to most shared hosting.
5. Lots of Freebies
Along with the resources you get to use, AltusHost gives you other stuff for free as well. This includes Let's Encrypt SSL, daily backups, spam filter, email accounts, and even a website builder.
It should be noted that you also get free site migration here. So if you're thinking of upgrading to a server better suited for performance or targeting euro traffic, this is a viable option.
That's enough to get almost any website going just with their basic hosting packages. Incidentally, the basic plan also allows you to run two sites on it – most will only allow a single site for their cheapest plans.
6. The Perfect Environment for All
Developers will have a field day here since they offer what might be the dream setup as far as the environment goes. You get many dev-friendly features such as NodeJS, Ruby, Python, access to Cron jobs, and more.
If you need to make use of a dedicated IP, you don't have to sign up for a VPS plan. Just pay an annual fee and you can get your own IP address, even on shared plans.
7. Specialized Hosting is Available
Aside from the usual hosting plans, AltusHost also has built some app-centric specialized plans. These seem to cover a few main categories and they've picked on for each. For example, for blogs or dynamic sites, they have WordPress hosting.
One of the more interesting among them is their ownCloud hosting plans. I seldom see web hosts offer ready-to-run file-hosting apps on shared plans, but AltusHost has done exactly this. The plan is a great idea for smaller businesses that want to move some resources on to cyberspace.
For that, they've bumped up the storage space as well, with the cheapest ownCloud plans offering 40GB of SSD space. Of course, if you need more you can choose to go for their VPS or dedicated server ownCloud plans too, with the appropriate bump in the monthly fee.
Cons: What I Do Not Like About AltusHost
1. LiteSpeed Web Server
While not exactly an obscure web server, I have not really had too many positive experiences with LiteSpeed. I'm much more a fan of Apache even though LiteSpeed has supposed performance advantages.
When it comes to web hosting I really do believe that proprietary technology shouldn't play too pivotal a role. Ultimately, we risk ending up in the same scenario as we are now with cPanel – with price hikes for licensing ruling the day.
Of course, this is just my own take on it and many of you might actually prefer using LiteSpeed.
2. Limited Reach
Earlier I spoke about how AltusHost had excellent performance for those targeting euro-centric traffic. Unfortunately, that means those wanting better access to other markets are a bit out of luck.
Even though their VPS plans are Cloud-based, even these are a bit limited. For VPS, you get to choose from all-euro locations only as well, including the Netherlands, Sweden, Bulgaria, and Switzerland.
3. Suspect Customer Service
Let's be honest, some customers can be terrible – that's simply a reality of life. But to have an official of the company communicate with people on a third-party platform in curt and brusque tones simply doesn't reflect so well on them.
Although scenarios like this seem very rare (this is, in fact a one-off I found), the fact that they do exist is a little bit worrisome.
AltusHost Plans & Pricing
Prices for AltusHost are all in Euro and to be honest, can be considered pretty steep since they only offer limited introductory discounts. This of course does mean you don't face renewal hikes, but the proposition is not overly attractive.
Shared Hosting Plans
| Features | Biz 20 | Biz 50 | Biz 100 |
| --- | --- | --- | --- |
| Websites | 2 | Unlimited | Unlimited |
| Storage (Pure SSD) | 20 GB | 50 GB | 100 GB |
| Monthly Bandwidth | Unlimited | Unlimited | Unlimited |
| CPU Cores Available | 2 | 4 | 6 |
| RAM Avalibility | 2 GB | 4 GB | 8 GB |
| Website Builder | Yes | Yes | Yes |
| Free Let's EncryptSSL | Yes | Yes | Yes |
| Daily Backup | Yes | Yes | Yes |
| Full Money Back Guarantee | 45 days | 45 days | 45 days |
| Price (24-mo) | €5.56/mo | €9.56/mo | €15.96/mo |
| Order | Biz 20 | Biz 50 | Biz 100 |
When looking at the price for AltusHost shared hosting plans, you have to keep in mind the amount of stuff they offer on the plans. If you don't, the experience might be a bit too painful for many to bear.
Starting from a low of $6.10/mo (€5.56/mo), the price may seem high, but that is against web hosts that have sign-on discounts. Once you compare it to renewal rates, you'll find that AlthusHost actually provides far better value than most.
VPS Hosting Plans
| Features | VM 1 | VM 2 | VM 3 |
| --- | --- | --- | --- |
| CPU Core | 2 | 2 | 4 |
| RAM | 2 GB | 4 GB | 6 GB |
| Storage ( Pure SSD) | 40 GB | 80 GB | 120 GB |
| Monthly Bandwidth | 4000 GB | 8000 GB | 12000 GB |
| Price | €15.96/mo | €31.96/mo | €47.96/mo |
| Renewal Price | €19.95/mo | €39.95/mo | €59.95/mo |
| Order | VM 1 | VM 2 | VM 3 |
VPS plans at AltusHost are pretty typical except for the more limited choice in server location. Other than that, it's sufficient to know that prices start from $17.51/mo (€15.96/mo), which is decent for what you get.
ownCloud Hosting Plans
| Features | Biz Web Hosting | Dedicated Server |
| --- | --- | --- |
| Storage | Up to 40 GB Pure SSD Storage | Fully Dedicated Machine for your Data |
| Software / Hardware | Instant One-Click Installation | Enterprise Class Hardware and Network |
| Data Center | Data Hosted in EU (Netherlands) | Data Hosted in EU or Switzerland |
| Support Assistance | 24/7 Technical Support | Full ownCloud Installation Assistance |
| Price | €5.95/mo | €49/mo |
| Order | Biz Web Hosting | Dedicated Server |
Special Mention needs to be made for their ownCloud hosting as this is something I can see that many could go for. The stretch of this specialized hosting crosses their entire hosting product line, so it's good for individual use and even small to medium businesses.
Verdict: Is AltusHost Suitable for You?
Despite some nit-picking here and there, I truly believe that AltusHost does offer a strong value proposition. Not only are the plans available well thought out, but their servers also show strong performance when taken in context.
For those who may be a bit concerned about price, think of it in another way. Would you rather pay rock-bottom prices for web hosting that's so discretional you'll be pulling out your hair every day?
This especially applies to business customers. You need to be able to work with a reliable hosting partner so you can focus on building the business, not worrying about web hosting matters, right
AltusHost has so far given me confidence in the products they offer. Give them a go today if you need hosting and if it doesn't work out – take advantage of their 45-day money-back guarantee.