Dick Johnsons
Today we will be making a recommendation for Dick Johnson`s, the best brand for men's grooming products, with its innovative high-quality, and vegan-friendly products. Committed to transforming the grooming game, the brand's assortment of goods range from hair care to beard maintenance, each infused with a unique blend of raw, earthy scents, and underpinned by the highest standards of Scandinavian quality and design.
Dick Johnson's line-up is as diverse as it is dynamic. The brand offers everything from deodorants and beard washes to grooming tonics and fiber wax. Their signature scent of Raw Whiskey and Vanilla has become a crowd favorite, finding its way into numerous products, creating a harmonious grooming experience that not only leaves you looking dapper but also smelling irresistible.
What sets Dick Johnson's apart is their bold, unfettered approach to grooming. Their products, packaging, and marketing are imbued with a distinct, rugged charm that pays homage to the raw beauty of their Nordic homeland. However, the brand doesn't just rely on its rugged appeal. Dick Johnson's ensures that their products deliver tangible results. Their grooming tonic, for example, not only allows for a range of styling options but also strengthens and repairs hair, increases shine and elasticity, and helps to retain moisture, thanks to the pro-vitamin B5 in its formulation.
See below some of the best products from Dick Johnson`s:
Dick Johnson`s Snake Oil

Dick Johnson's
Snake Oil Unscented is a premium beard oil that pays homage to its big brother, Snake Oil Oak & Gin, by offering a similar, highly nourishing texture. Unscented, but undeniably potent, this beard oil stands out for its pure, high-quality ingredients that together create a product of unrivaled efficacy.
Formulated for easy application, the Snake Oil Unscented spreads effortlessly across the beard, ensuring that every bristle and whisker is well moisturized. The product's base is a blend of almond oil and argan oil, the latter hailing from the nuts of the Argan trees found in the Southwestern regions of Morocco.
Despite being unscented, the product carries a powerful punch, thanks to the nearly unscented rosemary and raspberry seed oil, ingredients that work incredibly well in delivering kick and vigor to your beard.
Dick Johnson's Snake Oil Unscented can be rightly described as a powerhouse of beard care. Simply being unscented wasn't enough; each ingredient was meticulously chosen for its unique benefits, creating a perfectly balanced, nutrient-rich formula. Raspberry seed oil, for instance, is packed with vitamins E and A, along with omega 3 and 6 fatty acids, to maintain a healthy and shiny beard.
Dick Deodorant Roll-on
When you're wearing Dick Johnson's 'Enivrant' Deodorant, you're not just applying a deodorant; you're embracing a mood, a state of mind that's as captivating as the name itself suggests. 'Enivrant', French for 'Intoxicating', accurately embodies the allure that this deodorant brings with its distinct scent profile.
The signature scent of 'Enivrant' is a sublime blend of Whiskey and Vanilla, a combination as unique as the individual wearing it. The richness of Whiskey, with its warm, smoky undertones, mingles effortlessly with the creamy, sweet notes of Vanilla. Together, they create a fragrance that's sophisticated, pleasing, and undeniably intoxicating.
With each application of 'Enivrant', you're equipping yourself with a confidence-boosting aura that's hard to ignore. This roll-on deodorant doesn't just make you smell good; it evokes an appealing presence that's bound to draw the attention and admiration of those around you. And with its long-lasting formula, you can trust 'Enivrant' to keep you feeling fresh and smelling divine for hours on end.
Dick Johnson`s Beard Wash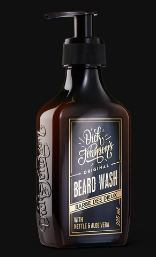 Maintaining a clean, well-groomed beard is more than just a grooming routine; it's a statement of personal style and self-care. With Dick Johnson's Whiskey and Vanilla Beard Wash, keeping your beard clean becomes an invigorating experience that elevates your grooming routine to new heights.
This beard wash, a proud product of Finland's rugged yet beautiful Nordic terrain, encapsulates a unique blend of smooth Whiskey and sweet Vanilla notes. This irresistible scent profile not only leaves your beard smelling fantastic but also attracts admiration from those around you. The powerful allure of a well-maintained beard is universally acknowledged, and this beard wash ensures your beard is at its best, capturing the attention it deserves.
Dick Johnson's Beard Wash boasts an all-natural formula that takes into account both the health of your beard and the environment. The active ingredients include:
Sodium lauryl sulfate for a thorough yet gentle cleanse.
Coco-betaine, an effective yet mild surfactant that ensures your beard is left clean without feeling stripped of its natural oils.
Glycerin, a natural humectant, keeps your beard hydrated and soft.
Aloe Barbadensis Leaf Extract for its soothing and moisturizing properties.
Urtica Dioica (Nettle) leaf extract, known for its ability to stimulate hair growth and improve the health of hair follicles.
Dick Johnson`s Fibre Wax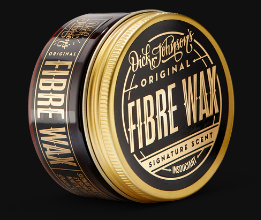 Nothing exudes confidence and style quite like well-groomed hair, and Dick Johnson's Fibre Wax is your ticket to achieving just that. Bursting with the signature scent of Raw Whiskey and Vanilla, this product promises to add that extra oomph to your persona that is sure to turn heads.
Dick Johnson's Fibre Wax offers a strong hold with a matte finish, making it the perfect product for achieving a variety of styles. Whether you're aiming for a short textured crop or a longer, natural finish pompadour, this wax provides the hold and finish you need to pull off your desired look effortlessly.
The use of this product is as straightforward as its results are impressive. Simply spread a knuckle-sized amount of the product evenly onto both palms and work it through your hair from root to tip. Comb it into your preferred style, and you're ready to make an impression wherever you go.
Dick Johnson`s Vegan Snake Balm for Beard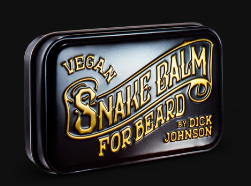 Superior Hold with a Vegan Twist In the wide array of beard grooming products,
Dick Johnson's
Snake Balm Beard Wax sets itself apart with its unique formulation and exceptional benefits. Completely vegan and made in the pristine Nordic terrains of Finland, Snake Balm offers an extraordinary blend of superior hold, nourishment, and a captivating fragrance.
Traditional beard waxes on the market often include beeswax in their formulation, but Snake Balm goes against the grain. Not a single drop of beeswax is used, ensuring the product's 100% vegan status. Instead, Snake Balm uses Candelilla wax—a natural, plant-based alternative. Originating from the Candelilla shrub native to Mexico and the southwestern United States, Candelilla wax is denser than beeswax, providing excellent hold and moldability to shape your beard as desired. This replacement makes Snake Balm more suitable for beard care, allowing you to craft your beard style while maintaining its health.
Alongside its superior hold, Snake Balm is a delight for the skin. The formulation ensures it does not stick, blending seamlessly with other oils. This allows for comfortable application and wear, fostering a nourishing environment for both your beard and the skin beneath.
Dick Johnson`s Grooming Tonic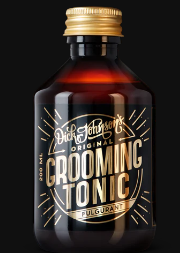 Standing at the intersection of ease and efficacy, Dick Johnson's Grooming Tonic is a remarkable addition to any hair care routine. Hailing from the wild terrains of Finland—referred to affectionately as the 'Nordic wasteland'—this vegan grooming product affords your hair the nourishment and styling prowess it deserves.
The primary allure of the Grooming Tonic lies in its adaptability. Whether you prefer a natural, laid-back finish or a slick, sharper image, this tonic has got you covered. Its unique formulation allows for versatile use. It can be applied alone to achieve a loose, easygoing style, or it can serve as a lacquer when paired with other products, smoothing your hair into a neatly polished look.
Bursting with a crisp grapefruit scent, the Grooming Tonic turns your styling routine into a sensory experience. This refreshing aroma invigorates your senses and leaves a subtle hint of freshness in your hair throughout the day. Your hair doesn't just look good—it smells great too!
Dick Johnson's is not just about aesthetics; the brand is deeply committed to ethical sourcing and production. Many of their products are 100% vegan, a testament to the brand's efforts to reduce their environmental impact and cater to the growing demand for cruelty-free grooming solutions.
Click the link below to shop at Dick Johnson German.