Despite the name, TorGuard doesn't actually have anything to do with TOR or any other proxy service that people use to access the deep web.
TorGuard VPN was essentially made for torrenting, but has now grown to bigger global VPN service that is being used a lot.
Now that we have that out of the way, I can start talking about whether or not it's a good VPN.
Is TorGuard worth using? Let's find out…
TorGuard VPN Overview
| | |
| --- | --- |
| OVERALL RANK: | #15 out of 78 VPNs |
| USABILITY: | 3/5 |
| LOG FILES: | No Logging Policy |
| LOCATIONS: | 55 countries, 3000+ servers |
| SUPPORT: | 24/7 Support. Live chat, tickets, and call center |
| TORRENTING: |  Torrenting Allowed |
| NETFLIX: | Yes 1/5 |
| ENCRYPTION/PROTOCOL: | 256-bit AES, OpenVPN and more |
| COST: | $4.17/mo |
| OFFICIAL WEBSITE: | www.torguard.net |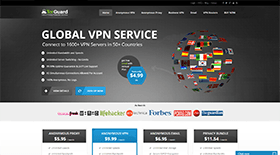 TorGuard Pros +
1. Packed with Essential and Important Features
TorGuard comes with many important features and perks, such as:
Anonymous IP
Torrenting allowed
5 simultaneous connections
OpenVPN/PPTP/L2TP/IPsec/SSTP/iKEV2 protocols
3000+ servers
55 countries (last verified on 16th of March 2019)
Of course, all the convenient features in the world won't help you if your VPN isn't secure. Fortunately, TorGuard employs some of the best modern technology for keeping your data safe.
First, it supports a wide variety of VPN protocols: OpenVPN, PPTP, L2TP/IPSec, SSTP, and iKEV2. So if you need to switch to another protocol, or you just prefer not to use the industry-standard OpenVPN, you have plenty of choices. (Of course, I generally recommend OpenVPN if you can use it.)
You can also use AES-256 encryption, which is the industry standard for strong protection. There are other options if you want them, but using 256-bit encryption is your best bet for staying secure.
TorGuard's secure DNS servers and built-in DNS and IPv6 leak protection add another level of security. While some VPNs tell you to turn off IPv6, TorGuard has a built-in option for preventing leaks, saving you the hassle of figuring out how to dig into your computer's settings to make the tweaks. That's something I really like to see.
You also have the option to completely turn off your internet connection when TorGuard isn't running to ensure that you're always protected when you're on the internet. No more forgetting to turn on your VPN!
And finally, you can use TorGuard on Windows, Mac, iOS, Android, Linux, Ubuntu, Chrome, Firefox, and both DD-WRT and Tomato routers. No matter where your traffic is coming from, you can protect it with TorGuard.
2. Solid Speed Performance
In our tests on a 100 Mbps connection, TorGuard managed to pull a respectable 54 Mbps download speed. That's not the fastest out there, but it's fast enough for just about anything you might need. Here are the results of our tests on various worldwide servers:

US Server (New York)
Ping: 120ms
Download: 31.66 Mbps
Upload: 31.16 Mbps
EU Server (Amsterdam)
Ping: 40ms
Download: 53.83 Mbps
Upload: 49.31 Mbps
Asia Server (Hong Kong)
Ping: 296ms
Download: 9.59 Mbps
Upload: 12.62 Mbps
UK Server (London)
Ping: 46ms
Download: 38.56 Mbps
Upload: 47.78 Mbps
The Hong-Kong-based server suffered a lot in download speed, so if you plan on routing through Asian servers, you may want to take that into account. Otherwise, the numbers are pretty good all around.
3. Commitment to Torrenting
Lots of people use VPNs for torrenting, but it can be difficult to know whether or not you could be punished for it. No VPN provider is going to intentionally shield illegal activity, but some are more torrent-positive than others. TorGuard is one of them—it's right in the name.
The fact that you can get a bundle with a proxy meant solely for torrenting at higher speeds than you might get on a VPN is indicative of the company's dedication.
TorGuard also states that their servers are "optimized for the best possible performance when downloading torrents." They don't say what that means, and there's a decent chance that it's just marketing-speak, but it's still a good sign.
And while it's difficult to tell how many servers and how many countries TorGuard represents (because there are different numbers all over their website), they do have a wide international selection, which should help you optimize your torrent speeds.
4. Dedicated IP Addresses for Streaming
If you plan on using TorGuard for getting access to Netflix or another streaming service, you can take advantage of their dedicated IP addresses. This lets you access the streaming service from an IP address not linked to TorGuard… which means you should get very consistent access without proxy errors.
That's great, right?
Yes, but it's going to cost you. When you pay for your VPN, you can choose a dedicated IP address as an add-on for an additional $16.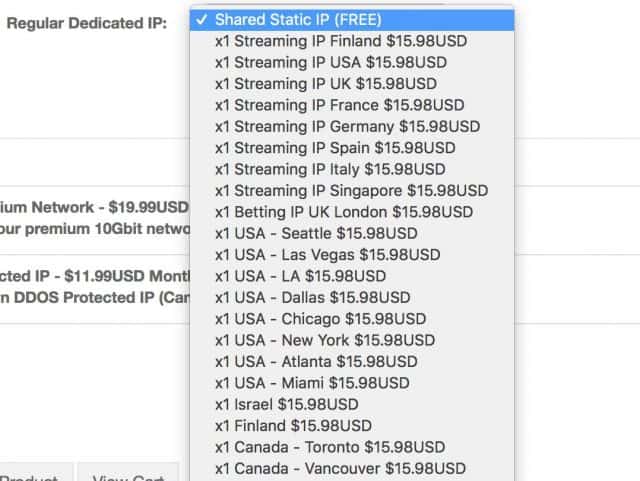 It's not a lot, but it does add to the bill. That could be considered a positive thing, because the dedicated IP address is extremely useful; but other VPNs offer successful Netflix streaming without the extra cost. So you'll have to weigh the cost for yourself.
5. Solid Security and Stealthing
A range of VPN protocols, including OpenVPN, solid encryption, and the ability to disguise VPN traffic as regular traffic to get around VPN blockers all make this a good choice for anyone worried about surveillance or censorship. Hiding your VPN traffic isn't always 100% effective, but I like to see VPNs giving it a shot.
It also tends to help with things like streaming Netflix in other countries.
6. No Leaks Detected
TorGuard is another leak-free VPN according to our tests.
We put it through the same series of checks that all of our VPNs face. And TorGuard passed with flying colors.
This is clearly a company that cares about leaks. They've gone out of their way to create a secure product, and backed that up with a built-in kill switch. Think of a kill-switch like an escape pod on a starship. (Where you Trekkies at?)
If the ship comes under fire, the crew is jettisoned to safety using the escape pod. A kill-switch is a similar concept. If a leak is detected, the kill-switch activates, ending your session and preserving the integrity of your browsing.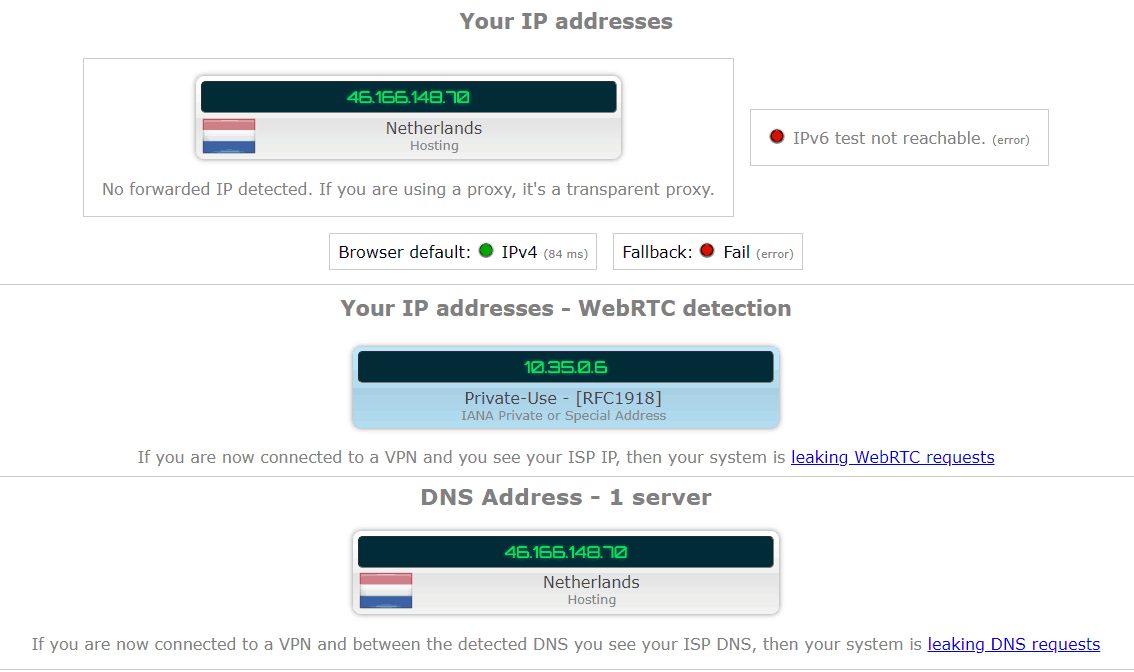 Plus, the installation files were also as clean as they come!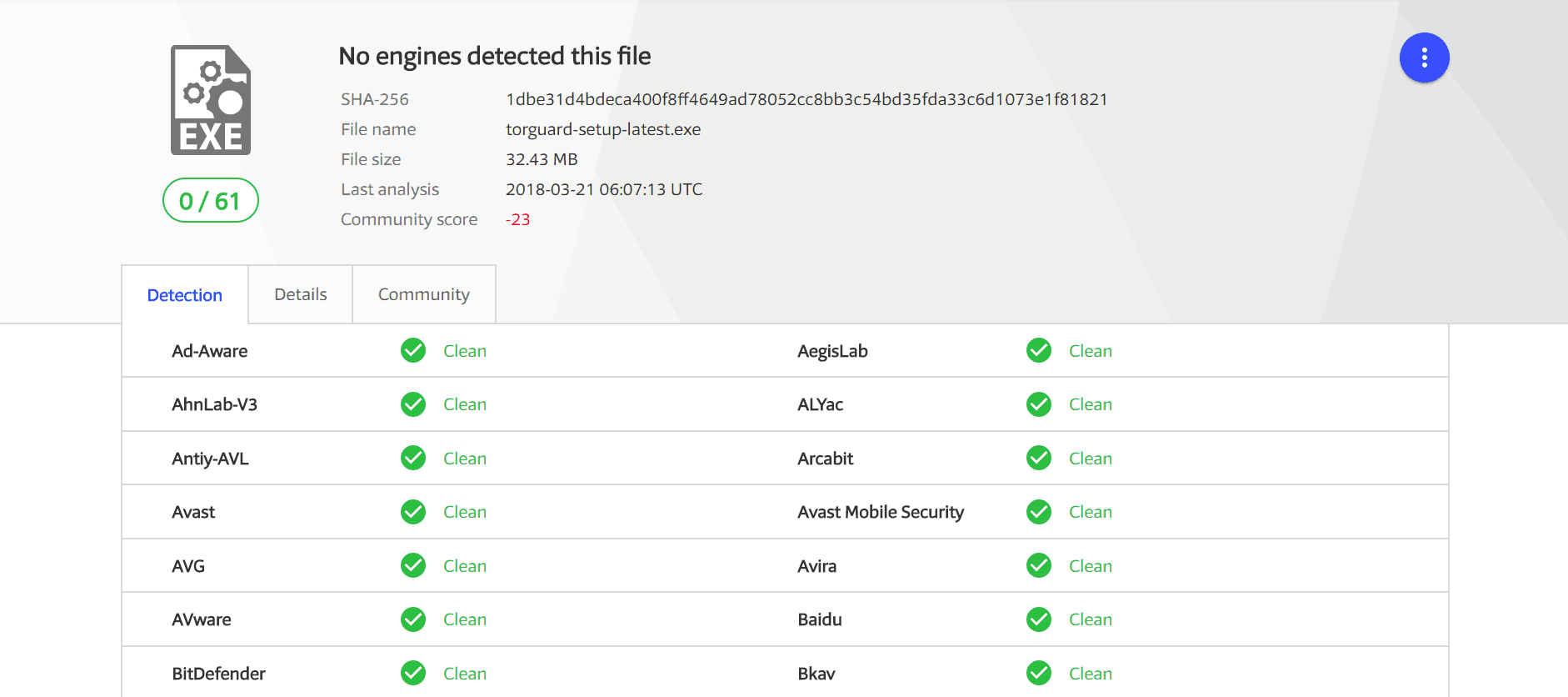 7. No Logging

TorGuard is very clear about its logging policy:
TorGuard.net does not store or log any traffic or usage from its Virtual Private Network (VPN) or Proxy.
The service collects information from you when you buy their products, but that's it. Which means they won't be selling your information to advertisers or handing it over, even if law enforcement shows up with a warrant.
And while it wasn't easy to find out where TorGuard is headquartered (and can't actually be confirmed), I found out that they're located in the US, Florida which makes me scratch my head a little…
8. 24/7 Live Customer Support 
There are few things that I hate more than sucky customer service.
I have (quite literally) boycotted brands with high-quality products simply because I found their customer service to be ineffective and downright rude.
Luckily, the customer service offered by TorGuard is some of the best that I have seen in the industry. They offer 24/7 support through a call center, live chat, and support tickets.
And unlike some companies in the industry (PIA) TorGuard actually offers 24/7 support, not just a glorified support ticket system.
I decided to test out TorGuard's 24/7 live chat system for myself to see if they can live up to their promises and I was pleasantly surprised.
At around 7:37 p.m. my time, I submitted a generic support query to gauge the companies response time. And only 5 minutes later, I was pleasantly surprised to receive the following response.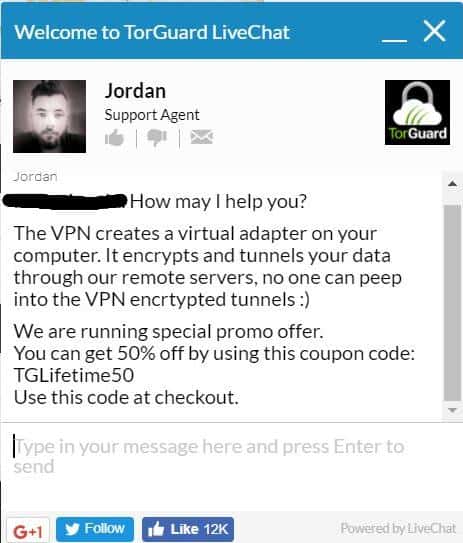 While their support team might not be quite as fast as Buffered or ExpressVPN, if you can stomach the 5 minute wait time, TorGuard provides excellent and efficient customer service that sets a benchmark for the entire industry.
9. Netflix Will Cost Extra, But One Out of Four Worked
Their basic VPN doesn't work with Netflix (nor does their proxy service).
It's a shame because when I was using their VPN, I couldn't get access to Netflix either. I got the following error: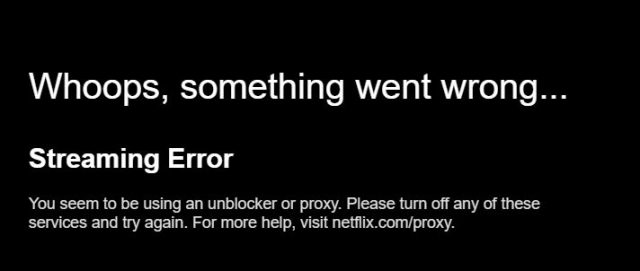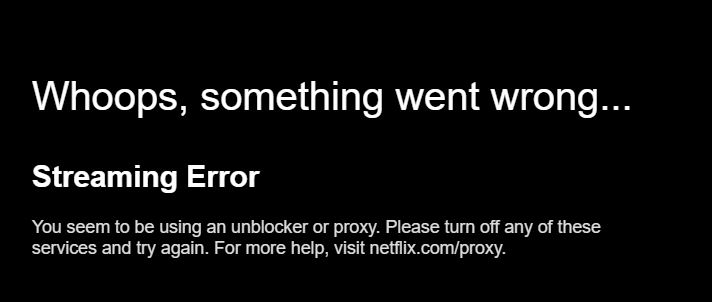 When I contacted their customer support, they told me that I need to buy "dedicated IP" which cost $7.99/mo extra in addition to the expensive VPN.
Seriously?
Almost $30/mo just to access Netflix which you can do with NordVPN and it only costs $3.49.
Here's what the support agent wrote me: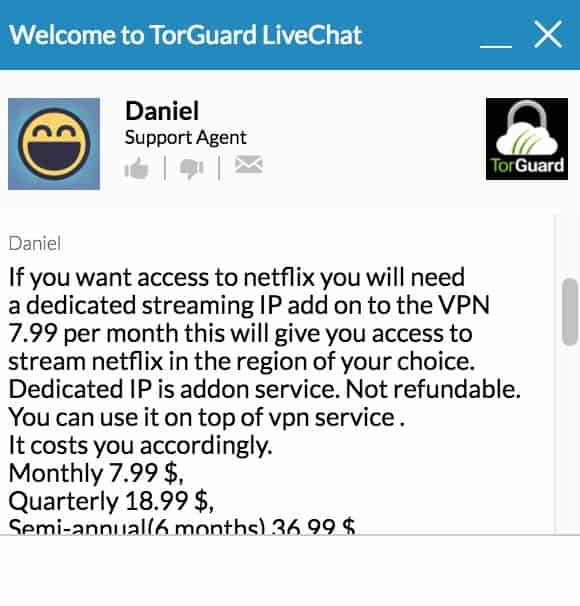 Ok. But here's the issue.
It still didn't work on the following servers:
United States: Dallas
Canada
Netherlands
United Kingdom
To end on a positive, we did get the New York server working properly. That's why this is still listed here under the Pros, despite only getting 1/4 working.
You'd expect a better ratio for the up-sell, though. So I'd recommend checking out the best Netflix VPNs we've found if that's your selling point.
TorGuard Cons –
1. Potentially Stolen Code
Back in 2015, VPN.ac posted a detailed blog about the similarities between their own browser extension and TorGuard's extension. The code was almost exactly the same, suggesting that TorGuard may have copied it.
However, VPN.ac also pointed out that TorGuard's version of the extension had some notable security vulnerabilities that weren't present in their own extension. These vulnerabilities could have led to users' data being leaked. Fortunately, that didn't happen (as far as anyone knows, anyway).
TorGuard quickly made some changes to their extension, but never made any satisfying public comment to explain their actions or apologize.
While this particular lapse in judgment isn't likely to affect your security or privacy when using TorGuard, it's still worrying. If they incorrectly copied the code from one company, they could do it again. It seems unlikely that they'd make the same mistake twice, but it wouldn't be the first time.
You'll just have to decide for yourself how big of a deal this one is.
2. Third-Party Apps Required on iOS and Android
To use TorGuard's VPN services on your mobile device, you'll need either the iOS or Android app. But you'll also need the OpenVPN Connect app.
Is that a big deal? No, probably not. But the fact that you need an entirely different app to get the VPN to work is annoying, and it adds another step to what we'd prefer to be a very simple process. Other VPNs that offer mobile apps usually find a way to make them work without requiring a third-party app.
3. Jurisdiction Inside 14-Eyes
As I mentioned a moment ago, TorGuard is a VPN provider and has nothing to with TOR, the deep web browser. TorGuard states that the "Tor" in their name is a reference to torrents, and protecting your computer while you use BitTorrent.
However, TorGuard appears to be owned by a company called VPNetworks LLC:
Vpnetworks, LLC
618 E South St
Orlando, FL 32801
Sadly, this means they're located in the US that can request VPN companies to handle over the information they have about their clients (hint: HideMyAss).
It's much safer to use a VPN that is located in the BVI, Panama or even Switzerland.
Read more about the importance of 14 Eyes alliance here.
TorGuard Pricing, Plans & Facts
It's not easy to find all of these prices on the TorGuard website, and if you want to purchase a bundle plan for more than a month, you may find it difficult. But if you get in touch with TorGuard's customer support, they should be able to hook you up with the plan you're looking for.
Here are your options (which aren't exactly clear on the TorGuard site) for VPN pricing:

Monthly VPN plan: $9.99
Quarterly VPN plan: $19.99
Semi-annual VPN plan: $29.99
Annual VPN plan: $59.99
Biennial VPN plan: $99.99
As you might expect, the biennial plan is the most economical, working out to just over $4 per month. Payment methods are done through PayPal, Credit Cards, Cryptocurrency, and more.
All in all, TorGuard has solid prices. They're not the cheapest, but they're not the most expensive, either. If you want a proxy in addition to your VPN, this is a tough service to beat.
All of their plans come with a 7-day money back guarantee. Here's a quick recap of what you can expect from TorGuard:
No logging: Yes.
Ease of the VPN software: Not the best usability, a bit old school 3/5.
Hidden fees & clauses: None.
Upsells: Proxy and Anonymous email upsells.
Instant access after payment: Took ~20min to verify PayPal payment.
DNS leaks: None.
Jurisdiction: Florida, US.
Protocols: OpenVPN, IPSec, PPTP & L2TP.
Kill-switch: Yes.
Do I Recommend TorGuard?
Despite a number of notable strengths, I don't recommend using TorGuard.
On the other hand, I don't caution you against using it, either. It's not that TorGuard is bad; it's just that there are a lot of VPNs out there that are better.
TorGuard has great security, but so do most other major VPNs. It has decent speed, whereas you can get blazing fast speeds if you get the right provider. Its prices are good, but not great. It supports torrenting, which is nice, but will cost you extra if you want a dedicated IP address for Netflix streaming (and still only 1/4 worked). Then there are the inconveniences (and potential immoralities) in the cons column.
Alternative VPNs
We're sure the TorGuard team is trying to hard to put out the best product they possibly can. And I applaud them for that. But it's not quite there yet, especially at the price they charge. It's possible that focusing on proxies, a VPN, and a secure email service makes it more difficult to perfect any one of those systems.