Supermetrics Review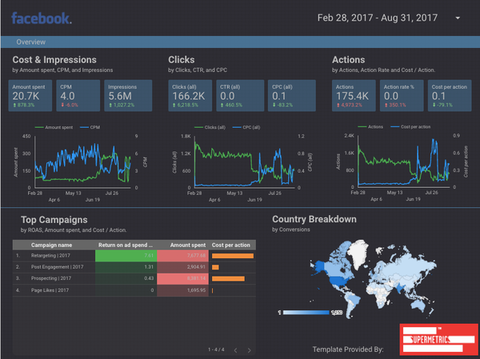 Supermetrics: The #1 Add-on for SEO, PPC, and Social Reporting
Supermetrics is a tool that is used by thousands of marketers worldwide. It helps marketers collect all the data that they need and put it all in one place for easy and fast reporting. Whether you are an agency, a business owner, or an in-house marketer, Supermetrics will allow you to save time, organize your data better, and create visually appealing reports.
Supermetrics offer 6 product options that you can choose from depending on your needs and processes:
Supermetrics for Google Sheets
Supermetrics for Google Data Studio
Supermetrics for Excel
Supermetrics for BigQuery
Supermetrics Uploader
Supermetrics API
How Does Supermetrics Work?
Supermetrics is an add-on which means you connect it to the reporting platform that you choose whether it's Google Data Studio, Google Sheets, or Excel, and Supermetrics will integrate your data from wherever your data is.
You can integrate more than 50 major data sources through Supermetrics such as Google Analytics, Google Search Console, Facebook Ads, Twitter Ads, Linkedin Ads, Moz, SEMRush, and many more.
Using Google Data Studio with Supermetrics
The product that I am currently using is Supermetrics for Google Data Studio. Google Data Studio is a free tool by Google that allows users to create dashboards with data from other Google products but with Supermetrics, you could blend in so much more data into one dashboard.
Supermetrics was easy to set up. You don't really have to create an account. Once you purchase a product or sign up for a free trial, it will redirect you to your Google Data Studio account.
Select create a new report, search for Supermetrics in the data search bar, and all Supermetrics connector that can be integrated to Google Data Studio will appear.
In this sample, I am creating a report for a paid ads campaign. I integrated data from Google Ads + Analytics, Facebook Ads, Twitter Ads, Bing, and Linkedin. Now if you're wondering what's the difference of using Google Data Studio without Supermetrics, from the data need, I could only pull up Google Ads + Analytics.
Wide Variety of Data Options
I was really impressed with the number of data that I could choose from. There are tons of metrics that allow me to provide more granular data in my report. This was quite intimidating at first and was a little confusing but once I was able to get a hang of it, I was able to look for the data that I need faster.
Blending Data
This is where Supermetrics really shines. I was able to integrate data from Google Ads, Facebook, Twitter, Bing, and Linkedin into one report. This saved me lots of time rather than going to one platform to another and collecting data manually. Through Google Data Studio I could even compare the numbers from each platform to give me a large-scale perspective on where I could improve my campaign further.
Multiple Accounts
Using Supermetrics also allows you to connect multiple accounts. I personally have two Google Analytics accounts and I don't have to pay extra if I want to connect both of them.
Free Templates
Supermetrics have a gallery of templates for Google Data Studio that you can use. I find this really useful when I need quick reports. All I have to do is make a copy of one of their templates and change the data source to my account. Here's a link to their Google Data Studio template gallery.
Supermetrics for Google Data Studio Pricing
Supermetrics offers three packages for Google Data Studio:
Individual Connector ($39/month)
Unlimited reports
1 account user
3 accounts per data source
1 data source
Pro ($99/month)
Unlimited reports
3 users
20 accounts per data source
Access to all Supermetrics data sources
Cross-platform data blending
Super Pro ($299/month)
Unlimited reports
5 users
100 accounts per data source
Includes all Supermetrics data sources plus Adobe analytics, Adform, Criteo, Google Ad Manager, Google Campaign, Google Display & 360, Hubspot, Snapchat Marketing, Salesforce, Searchmetrics, etc.
Cross-platform data blending
Supermetrics have different pricing options for each product. To view the packages for Google Sheets, Excel, BigQuery, Supermetrics Uploader, and Supermetrics API, check out the full Supermetrics Pricing Page.
Final Verdict
All in all, I would say Supermetrics is a marketers best friend. As a digital marketing agency, we spend hours on creating reports for our clients and Supermetrics really helped us reduce the hours we spent. If you are also working in an agency, I highly recommend Supermetrics because it really makes reporting more efficient. As for business owners or in-house marketers, I would recommend Supermetrics if you are running campaigns on multiple platforms so you could easily review your data and realign your business strategies.