SocialPilot treads a fine line between adding lots of new, innovative features and providing a value-for-money alternative to its competitors.
Social media management tools can innovate endlessly, in what is an ever-changing industry. Those development costs have to be passed on somewhere, and often we see them absorbed in the monthly subscription package price.
The trade-off is not always to the benefit of some customers, however.
Overall, what SocialPilot lacks in high-tech features, it makes up for with handy tools that help marketers complete tasks more effectively.
SocialPilot is not the right option for everyone. The advanced features that it lacks could be deal breakers for larger organizations that want their social media management software to act as a strategic partner.
---
Who is SocialPilot for?
SocialPilot caters to a specific market of startups, small businesses, and marketing agencies who need access to multiple social networks to manage their marketing campaign effectiveness, without paying for high-end features like competitor reporting.
It caters to those who need more than the free Buffer or Hootsuite account can provide, but do not need to go all-in on an expensive subscription to either of these platforms.
Most of SocialPilot's rivals require customers to upgrade their subscription to add more users, which means these customers end up paying for features they may not want or need.
Instead, SocialPilot offers effective social media posting and an intuitive social media dashboard, at a price that will appeal to smaller social media teams.
---
SocialPilot's features
SocialPilot social media management offers all the basic capabilities you would expect and a few advanced tools to make your campaigns even more effective.
Social media post scheduling
Of course, the cornerstone of any social media management software is the automated post scheduler.
SocialPilot fares well in this regard, with support for all major social networks, including Twitter, Facebook, Pinterest, and LinkedIn.
It's possible to connect to an Instagram or TikTok account, but posting is not automated for these social networks. You will need to set up a reminder through SocialPilot so you can push the content live at your proposed time.
SocialPilot does a great job of keeping pace with the ever-changing social media landscape, as evidenced by its relatively early support for TikTok. Nonetheless, the lack of a direct Instagram connection is disappointing, especially when the likes of Buffer can offer this.
There are still plenty of positives when it comes to social media posting on SocialPilot. The post creation interface is clean and intuitive, with a very handy Canva integration if you want to add imagery or video from your account. The post preview tool is effective, and you can add clients or team members to the account group so they can have input on the content before it goes live.

There is an option for bulk scheduling with a CSV file, if you would like to upload a large number of posts in advance.
It is possible to schedule posts to go out in different time zones, and the drag-and-drop social media calendar simplifies the process of re-ordering your posts.
As a tool for scheduling a high volume of posts across multiple accounts, SocialPilot is among the best on the market.
Content recommendations
The constant need for new social media content can put a strain on any business. Business owners and social media managers need to filter through multiple feeds, decide what is relevant, and share new posts multiple times per day.
That process lends itself to spontaneity rather than strategy.
SocialPilot has a superb feature that recommends content to repost, based on your company's industry. You can enter keywords into the search box and SocialPilot will curate a list of posts to consider. If you deem the content relevant for your audience, you can add the post straight to your schedule.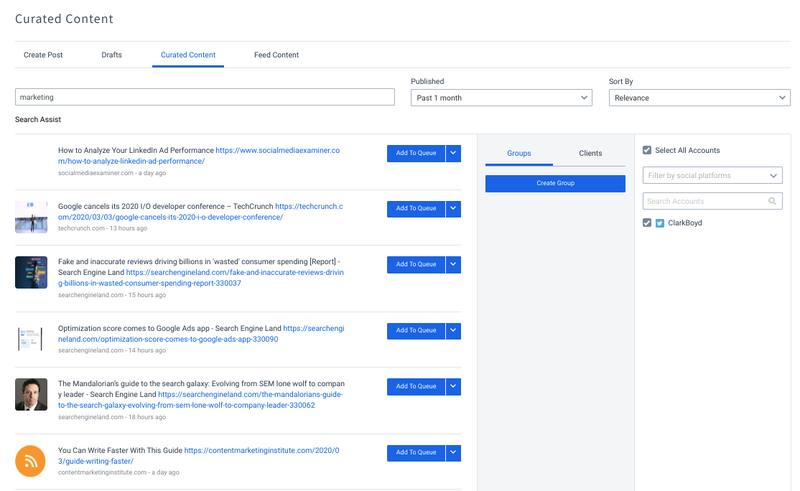 You can even connect to multiple RSS feeds and manage new posts within the Content & Feed interface.
This tool fits in seamlessly with the rest of the platform and will add significant value for any organization.
Performance reporting
SocialPilot contains marketing analytics reports for your Twitter, LinkedIn, Facebook, Pinterest, and Google My Business accounts. The absence of Instagram is notable and will make a difference to businesses that focus their social media strategy on this particular social network.
The reports cover the standard marketing kpis and the data is displayed in a digestible visual format. There are some very welcome extra features, such as the ability to see the top influencers that have interacted with your posts and a list of the most popular hashtags you have used.
This can be highly valuable information and demonstrates how SocialPilot can unearth those insights that lie hidden in the data.
That said, we should note that SocialPilot does not integrate with external analytics platforms and does not offer competitor reporting.
It's excellent for analyzing your own social media data against a variety of marketing metrics, but you will need to work outside of SocialPilot to get a broader view of how social media contributes to your overarching marketing objectives.
---
SocialPilot's ease of use
SocialPilot provides an effective, functional interface. The setup process is quick and you can connect multiple accounts with the click of a few buttons. SocialPilot connects to an extensive list of social networks, too: Facebook, Twitter, Instagram, LinkedIn, Google My Business, Pinterest, Tumblr, and the Russian social media giant, VK.
It is easy to navigate through the different features, using the navigation bar on the left side of the screen. The spartan aesthetics keep the user's focus on working through their social media tasks.
Nonetheless, SocialPilot does have a limited amount of training for new customers, with live training restricted to the most expensive Enterprise plan only. It is not a difficult software to master, but it is also not the simplest on the market. More guidance would be helpful in the early stages to ensure customers can get the most out of the platform.
SocialPilot has been designed with multiuser teams in mind, and this shows in a number of accessible tools. There are plentiful options to add other team members to a post or a campaign, so that they can make changes within the SocialPilot platform.
In essence, SocialPilot is a very practical tool, unembellished with superfluous decoration.
It does, however, lack the polish and attention to detail of its glitzier rivals.
There are a few spelling mistakes in important areas (see 'Pintrest' in the screenshot below) and in our review, the connection to Twitter dropped on a couple of occasions.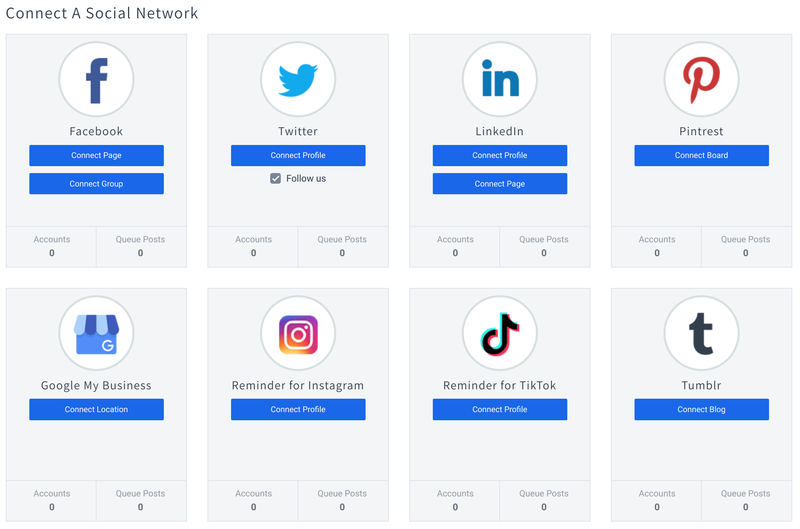 These are minor glitches and at times they are nothing more than cosmetic inconsistencies, but they do also point to some occasional misfires within this technology.
---
SocialPilot's pricing
SocialPilot offers four pricing plans.
The Professional plan is the cheapest of these, at $25/month if you pay in a lump sum for the year. It is $30/month if you choose to pay on a monthly basis.
At this level, you can connect with a very sizable 25 social media accounts, with access to bulk scheduling and content curation for up to three team members.
This points to one of the primary selling points of SocialPilot. Other platforms require subscription to a more expensive package to access advanced features and additional users, but the introductory subscription on SocialPilot will cover the needs of many businesses.
The Small Team subscription costs $50/month (with a discount to $41.66/month if you pay up front for the year) and builds on the Professional account by adding connection to a further 25 social media accounts and access to the Social Inbox tool for managing conversations.
This package also provides white label PDF reports, for agencies that want to add their branding before sending analyses to their clients.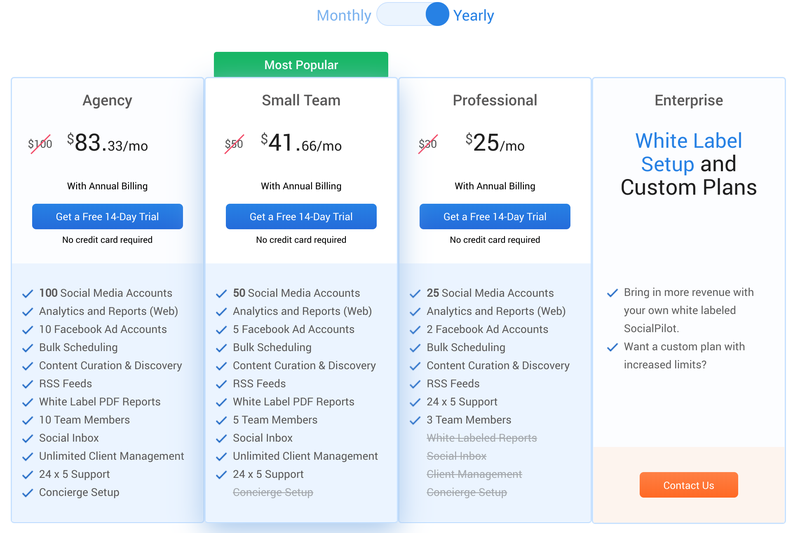 The Agency plan, at $100/month, or $83.33/month if you pay for an annual subscription, includes everything in the Small Team package, plus access for up to ten team members and the potential to connect 100 social media accounts.
These three account plans come with a 14-day free trial, with no credit card required.
The fourth option is to contact SocialPilot to design your own plan, should your requirements fall outside of these parameters.
Clearly, this approach to pricing has agencies and multiuser social media teams in mind.
SocialPilot social media management covers three team members in its entry-level plan, which is priced reasonably at $30/month. In such a context, it is easy to recommend SocialPilot for businesses that don't need the advanced social listening features Sprout Social can offer.
---
SocialPilot's support
SocialPilot pushes all queries either toward their email address or to their knowledge center. From experience, they do respond to emails within a few hours, typically with a solution but sometimes with just a link to an FAQ page on the knowledge center.
The knowledge center posts are clear and contain step-by-step solutions anchored to a variety of common digital marketing terms, but of course, they do not cover all potential issues.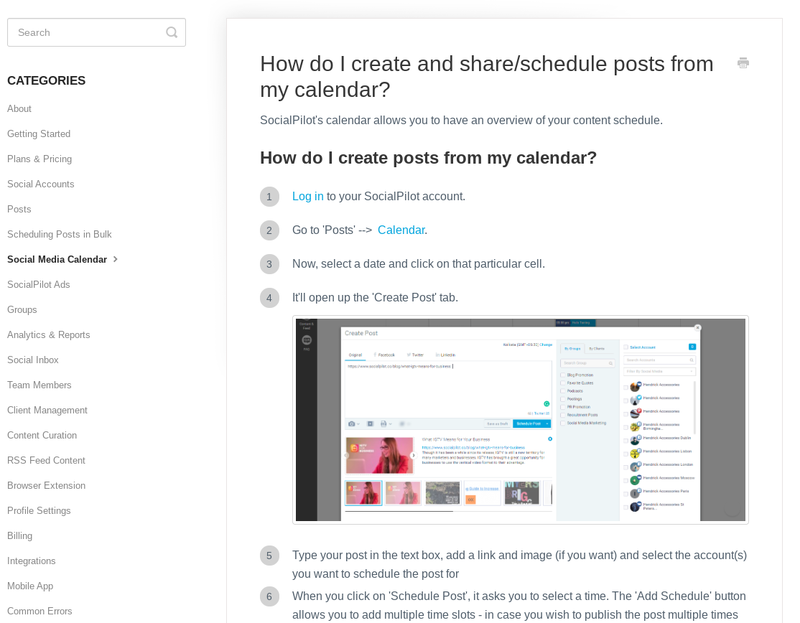 There is no live chat or phone support option available. You can reach out to SocialPilot on their social media channels, although there are no dedicated support accounts.
For urgent issues, your best bet is to use the email address. That does not stack up so well against the competition, all of whom offer multiple options for issue resolution.
---
Benefits of SocialPilot
SocialPilot provides great value for money in a feature-packed software suite.
It offers a cost-effective alternative to Hootsuite or Buffer for teams that require posting to multiple social media accounts.
The interface is easy to navigate, albeit not as slick or intuitive as its high-end rivals. Tools such as the content curator will also prove useful for time-starved teams that need to find new content to post every day.
Moreover, there are SocialPilot browser extensions for Chrome and Firefox, along with both iOS and Android apps.
---
A comprehensive, cost-effective social media scheduler
In a sea of very similar social media management software options, SocialPilot takes a different tack.
It is designed for social media professionals that need to manage a large number of social networks and accounts, from one interface, at a fair monthly subscription price.
SocialPilot does not contain advanced features for social listening or chatbot creation, so it is perhaps not the most obvious choice for giant corporations that want to be at the cutting edge of social media innovation.
The lack of automated Instagram posting is a drawback (SocialPilot states on its website that this will come "soon"), but there are more than enough positives to earn SocialPilot a recommendation for teams that need a reliable, effective social media posting tool.
---
Frequently Asked Questions for SocialPilot
Is SocialPilot easy to use?
SocialPilot's account setup process is straightforward and you can connect to multiple social media accounts with just a few clicks.
Which social networks does SocialPilot connect to?
SocialPilot connects to Facebook, Twitter, Instagram, LinkedIn, Google My Business, Pinterest, Tumblr, and VK.
Can I schedule Instagram posts through SocialPilot?
Yes you can schedule Instagram posts, but you will need to push the posts live manually. SocialPilot will send a reminder to do so when your scheduled time arrives.