SideShift Review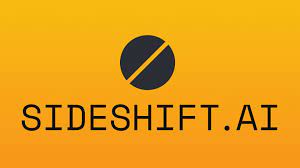 SideShift.ai enables humans and AI to shift between 30+ cryptocurrencies. Swap between coins with fast and easy user experience, no sign-up required. XAI is the native token of SideShift.ai that evolved from v1 of the SideShift token, SAI. There will only ever be 210 million XAI tokens minted on the ERC-20 Ethereum network. SideShift.ai is automatic. Once your deposit receives 1 confirmation on the blockchian, SideShift.ai will process your shift and send funds to your chosen address. The duration of this process is dependent on confirmation time. SideShift.ai does not hold funds. Trezor is the original hardware wallet. Humans can shift between crypto assets using SideShift.ai in Trezor Suite, without leaving the app. To use SideShift.ai with your Trezor, open Trezor Suite, visit the Trade tab and follow the prompts.
Sideshift.ai is a "No Sign-Up Crypto Exchange", as such it fills an important place in the realm of Crypto Exchanges. While DEXs are great most of them don't allow for cross-chain trading. Regular Centralized Exchanges are great too if you don't mind putting your Crypto in the hands of other people and or giving your personal information to them. Sideshift.ai counts itself among the few Exchanges like ChangeNow, SimpleSwap, SwapSpace, StealthEx etc. which solve those problems by allowing cross-chain trading and requiring neither your personal information nor the custody over your crypto. Today I'll go over the advantages and disadvantages of Sideshift in comparison with its competitors as well as my general experience with the Exchange. 
Something that can be a bother on other exchanges of its kind are high minimums, while the minimum for most exchanges is usually around $10 depending on the blockchains being traded that number is by no means set in stone. I have personally seen minimums as high as $50 when trying to trade between blockchains where fees in no way justify the high demands set by the exchange. Sideshift on the other hand has far more reasonable minimums which are as low as $1 for many pairs. This makes Sideshift an attractive option for trying out new Crypto-Currencies and wallets, without having to invest any significant amount of money into it, which is a good thing especially uf you're new to crypto. I know from personal experience that the fear of throwing away a bunch of money by doing something wrong is ever present when you're just dipping your toe into this space.
Two unique and nice additions are the ability to both view your own history of trades as well as the trades of others, there's not much to be said about this but I like these so I thought I'd mention them. Another somewhat unique thing about Sideshift is that it features its own token which you can stake directly on the site but the APY can be all over the place.
Now one of the big disadvantages Sideshift has is the amount of Tokens and Crypto-Currencies you can trade, for me this isn't a deal breaker but it should be mentioned nonetheless. Overall they have less than 30 available, if you don't count multiples. These do cover many of the major blockchains which is why it really doesn't matter to me but it may matter to some. They also regularly add to their portfolio, just recently they added Avax, AXS and the Lightning Network for Bitcoin.
Conclusion
I don't have anything to complain about, Sideshift.ai suits my needs very well and I haven't had any problems using it at all. It's a great gateway into Crypto-Currencies you haven't tried out yet and I wish I had heard about it a lot sooner. It does have its disadvantages but it has nonetheless become my favourite exchange of its kind.