IcyBreeze
Today we will be making a recommendation about IcyBreeze, a pioneering company in the outdoor comfort industry, bringing the ingenious concept of portable air conditioner coolers to the market. The brand's products stand out for their dual functionality, combining the benefits of a regular cooler with the comfort of a portable air conditioner. Ideal for various outdoor scenarios, IcyBreeze products provide a much-needed respite from the heat, making outdoor experiences more enjoyable.
At the core of IcyBreeze's product line is the innovative idea of merging a cooler and a portable air conditioner into one practical and transportable unit. The coolers not only keep beverages and food cold but also serve as a portable air conditioning unit, circulating cool air that can significantly improve outdoor comfort. This dual functionality is what makes IcyBreeze a game changer in the realm of outdoor equipment.

IcyBreeze Platinum


The IcyBreeze Platinum portable air conditioner cooler represents a breakthrough in outdoor comfort technology. Combining robust cooling capabilities with outstanding portability, the IcyBreeze Platinum takes outdoor experiences to a whole new level, providing a much-needed respite from the heat without compromising on convenience or the environment.

The IcyBreeze Platinum is designed with innovative features that redefine outdoor cooling solutions.
Dual Functionality: As with all IcyBreeze products, the Platinum model acts as both a premium cooler and a portable air conditioner. This means it not only keeps food and drinks cold but also delivers a cool breeze that can drop the surrounding air temperature by up to 35 degrees.
IcyBreeze Run Cotinuous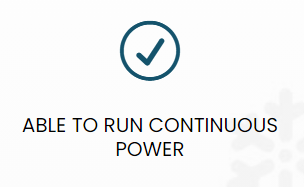 For many outdoor enthusiasts, uninterrupted cooling can make all the difference in their enjoyment of the great outdoors. Understanding this need, IcyBreeze, known for its innovative range of portable air conditioner coolers, offers continuous power functionality on its products.
This feature allows for an ongoing cooling experience, enhancing outdoor comfort significantly. IcyBreeze's Continuous Power Functionality IcyBreeze products are equipped with multiple power options, which include a rechargeable battery pack, a 12V car power supply, and a standard 110V wall charger.
This versatility ensures users can operate their IcyBreeze cooler in virtually any location. The standout feature, however, is IcyBreeze's ability to run on continuous power. When connected to a power source such as a car power supply or a wall charger, IcyBreeze coolers can provide an uninterrupted flow of cool air for as long as needed. This ensures a consistent and comfortable temperature throughout your outdoor events, without worrying about the battery running out.
IcyBreeze Easy to carry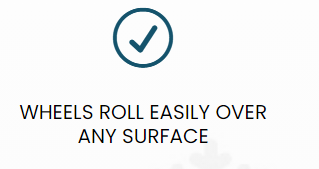 Designed with portability in mind, IcyBreeze coolers come with large wheels and a handle for easy transportation. They are ideal for a variety of outdoor activities, including camping, boating, tailgating, and more.

IcyBreeze coolers are specifically engineered for easy transportation: Compact Design: Despite their dual functionality as a cooler and a portable air conditioner, IcyBreeze coolers are compact and designed to occupy minimal space, making them easy to fit into a car or a boat.

IcyBreeze long lasting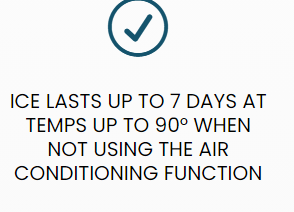 IcyBreeze is renowned for its innovative products that act as both a cooler and a portable air conditioner, enhancing outdoor comfort significantly. Another feature that sets IcyBreeze apart is its impressive ability to keep ice frozen for up to 7 days when not using the air conditioning function, extending the utility of the cooler and ensuring your food and drinks stay cold for an extended period.
IcyBreeze's Extended Ice Preservation IcyBreeze coolers are engineered with superior insulation and a sealed lid design that effectively retains the cold air inside, even in high outdoor temperatures. This allows the cooler to keep ice frozen for up to a week when not using the air conditioning function.

IcyBreeze Easy to use Drain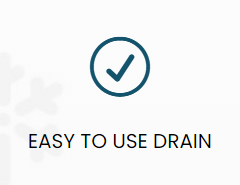 IcyBreeze coolers are designed with a user-friendly drain system that allows for the quick and efficient removal of meltwater. This system is strategically placed for easy access, ensuring that users can drain the cooler without tilting or moving it significantly. Using the drain system is straightforward. Users need to open the drain plug and allow the water to flow out. Once all the water is drained, the plug can be securely closed again. The simplicity of this process ensures that cleaning up after an outdoor event or trip is hassle-free.
To purchase IcyBreeze just click the link below.