Etsy Hunt Review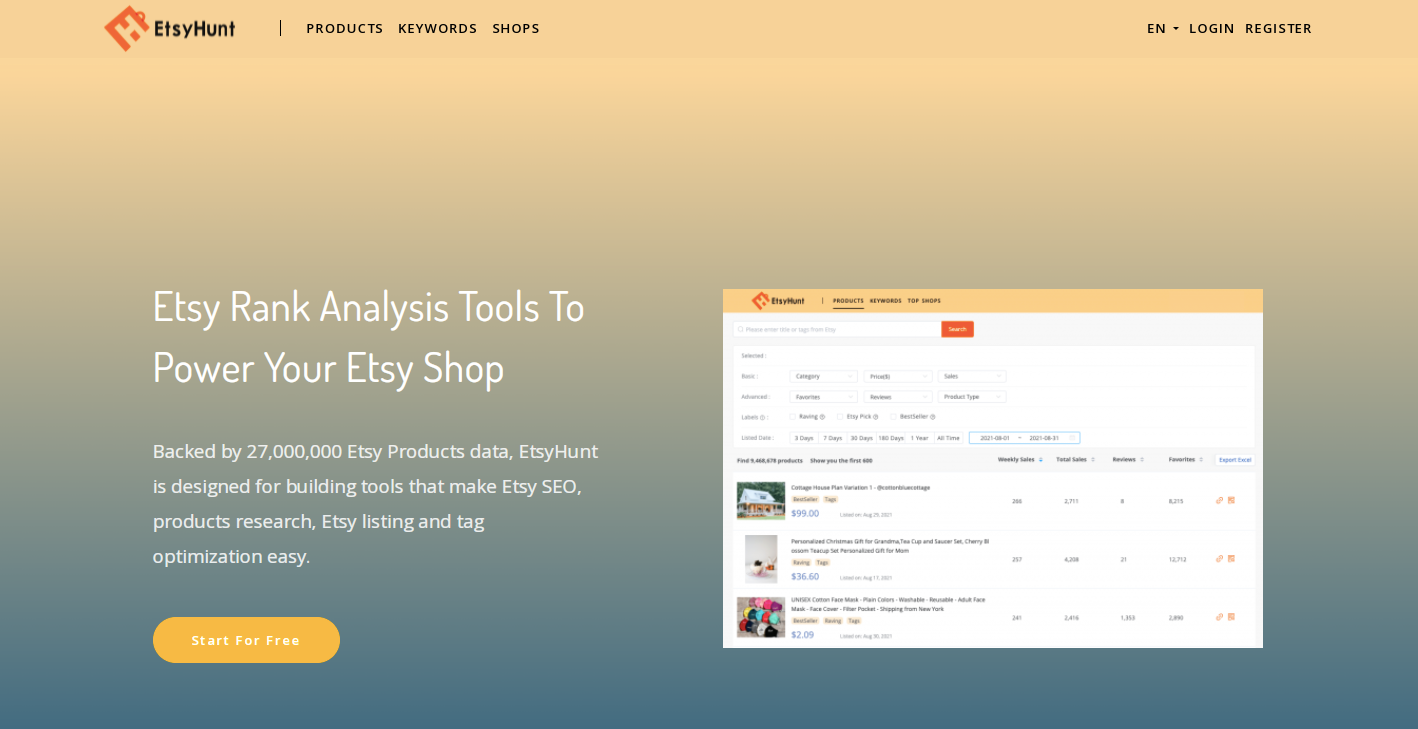 You might have come across a number of EtsyHunt reviews, but none of them deliver the value that they are meant to deliver. Well, I have got you covered. In this article, I'll mention all the key features with the plans and everything that EtsyHunt offers. So let's take a deeper dive into this EtsyHunt review and try to understand how Etsy hunt can elevate your game in terms of rank analysis and research.
I hope that you might be well known about what Etsy is? And for those who don't know, let me give you a quick peek; well, Etsy is an e-commerce platform that focuses on delivering handmade products, jewelry, and crafts. So, as I mentioned handmade products/crafts, you might be well aware of the fact that searching for a standard dropshipping product is pretty simple, but what about these handmade crafts?
Searching for these handmade crafts, jewelry and vintage items can be a task in itself, and EtsyHunt has been a savior when it comes to rank analysis, keyword research, shop ranking and much more. But before we get on this track of key features and everything else, let's take a look at what EtsyHunt is?
So let's get started!!
What is EtsyHunt? – EtsyHunt Review in a Nutshell
Suppose you are someone who has been in the dropshipping ecosystem for quite some time. In that case, you might be well aware of how you can get along with these product research tools in order to find that sweet spot when it comes to product research; well, there are hundreds of tools available in the market, but having a tool that can help you in getting your product research done for handmade crafts, jewelry and similar can be a difficult task in itself.
This is where EtsyHunt can turn out to be an excellent tool for helping you in these processes, but now comes the question of who can use EtsyHunt? EtsyHunt is basically a rank analysis tool, which also lets you explore different features like keyword analysis, product listing, shop ranking and much more (more of a complete tool for Etsy selling operations); I'll get to those features later in the article. So, let's dig a bit deeper into this aspect as well.
How to Use Etsy to Find Winning Products? – EtsyHunt Review
Well, using Etsy is quite easy. First, you have to create an Etsy account, though.
1. Open an Etsy Shop
Open the homepage, and click on Sell on Etsy. Then you should select the shop language, currency and country. You should also choose your payment method and the account where you want to receive your payments. You also need a PayPal account to receive payment, but it should be available in your country.
You can also use Etsy Payments which can open up more payment options for your customers like Apple pay, debit cards, Google Pay and others. You will also have to set up your billing details, where your selling fees will be deducted.
2. Choose a Name for Your Shop & Title
The first name that Etsy shoppers come across is the name of your Etsy shop. Also, it is your only chance to make your first impression. But make sure that you keep your name easy to say and that it reflects your personal brand.
While you think of a name for your shop, you also have to make sure that it is not the same as other Etsy sellers. The shop title should describe what you are actually selling in your shop, so you have to make sure that you should describe your offerings clearly.
3. Set Up Your Shop to Showcase Your Brand Personality.
Well, the first impressions are as equally important as shoppers do understand what your shop is about by just looking at your shop page. Which actually is the "storefront," you think.
Following are the key areas of the shop on which you should focus:
Shop logo: You should decide on a shop logo as your shop's profile picture. If your logo is professionally designed, it shows that you are serious about branding and also builds a solid impression on shoppers.
Banner: It is the only significant thing shoppers will see when they get on your Etsy Shop. So always make sure that you use high-resolution and high-quality graphics or photos here.
About Section: Here, you should tell the story of your brand. You can share videos and photos to show what makes your shop special.
Seller Profile: Make sure you put your real name and photo, which is in a high-quality profile photo, so you instill trust at first glance, even though they are much smaller than the other elements.
Shop members: Well, as your shop grows and you need to partner with someone so that you can manage your Etsy shop or you wish to create your products, those names and photos will appear in this section.
Shop policies: Here, you can find information about processing times, payment options, estimated shipping terms, returns and exchanges, FAQs for customers, privacy policies etc.
4. Creating Your Product Listings
Now you can finally add products for selling on your Etsy shop. Following are these steps to list your items on your Etsy shop.
Adding Photos and Videos: Shoppers like to know what exactly they are getting. You can take a minimum of five high-quality photos of your product from various angles and a few, maybe with a couple with a ruler to scale. You can also post a video so that your buyers can have a better look.
Choosing your Thumbnail: Always remember that it is the first image that shoppers will see, so you should always be consistent with all other thumbnails. It should bear the look and feel of your brand.
Ensure Complete Listing Details: Always make sure that you place the listings correctly in the correct category. Try to use keywords in the product title and description. Also, see that you do utilize all 13 tags, which can make it easier for shoppers to find your listing.
Always indicate inventory quantity and price: Also, ensure how many items are in stock. If you find product variants, do make sure that you include them all. Price should be seen at all costs.
Enter shipping details: Always include shipping fees, country of origin, processing time and item size and weight.
Publish: Once you are listing ready and published, it is now ready to be purchased.
5. Develop a Marketing Strategy
Now, as you are done with the details of your Etsy shop, it does not mean that that is the only thing you have to do. Marketing is an essential part that involves new customers to find your shop and also to let existing customers know that you have brought in new products or any sort of new shop updates. All these help you to increase your revenue. Following are a few of the marketing tips which can help you to get started:
Linking your shop to social media and vice versa: Marketing via social media works quite well on Etsy, so you can make sure that your social media presence is good, which you can utilize for your Etsy shop. Also, as suggested earlier, your profile and about section link to social media, so even your customers can follow you other than just on Etsy.
Optimize your shop for Etsy search: Make sure you add the right location and use keywords that shoppers likely use. Also, try and offer free shipping, as shops that offer free shipping on orders $35 and up are often prioritized in the search results.
Try using Etsy Ads: You get an option to promote your listings in Etsy Search on ad spaces. These are separate from the search results.
6. Manage Your Etsy Shop
So as your Etsy shop grows, you need to ensure that your Etsy shop is around for a long time and just not for a few months. Following are some of the tips which can help you to manage your Etsy shop for steady revenue growth.
Learn new techniques: Always remember that you can improve your product listings and marketing efforts and increase sales. Listening to and seeking feedback and keeping them updated on trends is also perfect.
Provide Good Customer Support: Always be around to assist buyers before, during and after an order is shipped and delivered. Also, ensure a proper follow-up from customers for a week or so, which can benefit your success. This can also help you know how they feel about their purchase.
If you need a Break, take it: Always remember that the world does not just revolve around your shop only. So if you have to go somewhere in case of emergency, or for some reason, you can even turn on vacation mode and take a break and not worry about mounting orders.
Optimize Etsy Shop Follow-Up Management
√Precise Order Screening: Choose regular customers who have left positive reviews from all Etsy orders.
√AI Messaging: Import customer information into the message box via smart tags in one click,easily get more Etsy reviews.
√Batch Editing: Batch edit all Etsy orders status, you can track Etsy orders efficiently.
√Daily Update: All new orders information will update in daily, helping you save time to make important decision.
USE IT NOW
Visual Analysis in Etsy Reviews Effects
√A/B Test: Test the results of different Etsy templates and choose the best one.
√Zero Negative Reviews: Timely targeting of Etsy negative reviews and quick response.
√Etsy Reviews Insights: See how Etsy reviews perform, include numbers of postive/negative Etsy reviews and comments rate.
√Reviews Ratio: View the proportion of various types of reviews in the past three months to understand the current review structure.
MONITOR NOW
Access Etsy Official API to Securing Your Shop
√As tested on a large number of Etsy shops, using the Etsy official API is the safest and most stable for shops.
√Our built-in Etsy templates complies with Etsy rules for a true risk-free.
√At present, only one Etsy shop can be bound to a single account, no risk of shop association.
√If asking for reviews does not work well, you can unbind at any time.
BIND NOW
Batch Export of All Etsy Customer Emails
√Support for bulk export of Etsy orders detail, include customer email, customer name, customer type, Etsy reviews status, request status, order ID and order date.
√Stay tuned for more wonderful features!
What Can You Sell on EtsyHunt? – Everything for everyone!
Etsy has a massive place for millions of items. It is simple to know which products sell more, and that gives you a considerable advantage in increasing your sales. Following is the list of the most sold items on Etsy:
Handmade Items
Jewellery
Accessories

Craft and Supplies

Wedding Decor
Party and Planner Supplies
Vintage Items
Clothing
Art
Home and living
Who Can Use EtsyHunt?
If you are someone who is indulged in Etsy product selling and dropshipping practices, EtsyHunt can turn out to be an excellent tool for you, as you can use Etsy SEO operations using EtsyHunt. In addition to that, it can be an excellent tool for keyword analysis, product research, and performing a rank analysis for Etsy shops.
So, as a bottom line, it can be said that EtsyHunt is an excellent tool for you when it comes to dropshipping and selling practices on Etsy. We can call it as an assistance tool that can help you in your selling and dropshipping practices around Etsy. Since we are now all well versed with what is EtsyHunt and who can use it? Let's take a deeper dive into the key features that make EtsyHunt an excellent choice among users around the globe.
EtsyHunt Features at a Glance – How Good is EtsyHunt?
EtsyHunt offers some excellent features for sellers and dropshippers working alongside Etsy as a platform. I guess you already have got an idea of how EtsyHunt can help you in your selling/dropshipping operations, but what are these features? Let's take a look at what these features are and how you can leverage these features for your business operations. Let's categorize these features into 5 key aspects and take a deeper dive as we get along with them accordingly.
1. EtsyHunt Review – Products
EtsyHunt Products
This section lets you explore two different features, including product database and product chart. This products section makes things clear for different product-related issues that o ne might encounter. As already mentioned, EtsyHunt is a rank analysis tool that can help you in product research, keyword research, list optimization and much more.
It is worth mentioning that EtsyHunt has a huge database for product listing; it offers an extensive database of 38 million products, a really huge database. This can be considered as an important key factor in making things great for searching around an extensive database of products, which means more products, a wider variety, and more options to explore. Let's take a quick look at what product databases and product charts are?
Product Database
The product database lets you explore different options (filters) named basic, advanced, labels and release time. As I have already mentioned that EtsyHunt has a vast database of 38 million products, so it's pretty evident that you are not going to scroll over these 38 M products; well, this is where the above-mentioned labels can turn out to be an excellent thing for you as you can get along with better-targeted research when it comes to searching for your desired product. EtsyHunt product database offers you different filters that include:
Etsyhunt features
Basic: The Basic section lets you get around different filters like category, price and sales. You can choose around an extensive list of categories, including home craft, jewelry, accessories, pet supplies, etc. You can also choose and search around different price ranges so that you get your desired products under your category and selected price range. In addition to this, you can also check out the filter that gives you an idea of how much sales that product has acquired in a certain period of time (7 days-sales/ total sales).
Advanced: This section/filter lets you explore a more advanced filtration process which includes Ship from (the source location), favorites, reviews and product type ( handmade, vintage, craft supply, vintage, etc.).
Labels: This filter can turn out to be an excellent thing for making your searches more efficient in terms of searching for products under the tags, raving, Etsy pick and bestsellers. The raving option lets you get around with products having multiple 5-star reviews, whereas the Etsy pick enables you to get along with the products which are picked up by the experts, and I guess you already have an idea of what bestsellers is meant for, the bestseller option lets you explore the products which have been getting excellent sales in the past 6 months.
Release Time: This filter/option might not sound like an important thing but can be helpful in searching for products that are new in the market and can be used in your dropshipping operations. You can also adjust your release timeline depending upon your needs and perform that near-perfect search for hot products across Etsy.
Product Chart: Having a product chart can be an excellent thing when it comes to getting an overview of products that might be getting along with in terms of product sales, reviews, etc. The product chart basically gives you an overview of how certain products perform.
2. EtsyHunt Review – Keyword
EtsyHunt Keyword
You might be well aware of how keywords turn out to be an essential factor for implementing great searches over the platform. You can search for your desired products across an extensive database of 38 million products. The keyword research also lets you explore different parameters such as views, favorites, competition and sales. These parameters can be considered as an excellent way of getting along with your perfect product using some keywords.
3. EtsyHunt Review – Shops
EtsyHunt Shops
Similar to the products section, which lets you explore around two sections; the product database and product chart, the shops section lets you get around two sections, the shops database and chart. It's worth mentioning that the product section and shop section offers somewhat similar things when it comes to filters offered, which include:
Basic: The basic filter offers three different sections that include country, category and sales.
Advanced: The advanced filter lets you get along with parameters like sales, reviews, and favorites.
Labels: Well, this section gets a bit different compared to what was offered in the product database. The labels offered in Shops include Star Seller and raving. Here the Star Seller label is given to the shops that have an excellent track record for offering a great customer experience, and I guess you already have an idea for a raving tag (shops with multiple 5-star reviews).
Creation Time: This section basically helps you in getting along with shops that are functional through what and what time. You can get along with shops that have been selling products on Etsy for 1, 2, or 3 year(s); you can also check another option for all time which lets you explore around shops without getting tangled around the time of creation.
One of the other important factors that gained my attention was its downloadable report, as you can get along with the option "Export to CSV." In addition to this, EtsyHunt's Shop section will also let you get along with data like Total sales, Total reviews, Total favorites, On sale and creation time.
4. EtsyHunt Review – Operation
EtsyHunt Operation
As I have mentioned earlier, the operation section lets you get around two important features that can help you get some informational data that can later be used for better business operations. Well, the operation section offers two different options, which include Listing Optimization and Follow-up reminder.
Let's take a better look at how listing optimization and follow-up reminders can help make your business a bit easy going.
Listing Optimization
The listing optimization enables you to get an updated listing of your store, which is based on the evaluation criteria of Etsy seller's handbook & Google site guide. The listing optimization (includes SEO analysis) can be an excellent feature to make things great in terms of improving exposure and conversions. The EtsyHunt's listing optimization can optimize upto 100 recent listings of your store.
EtsyHunt Listing Optimization
The listing optimization lets you explore some other parameters such as views, sales, conversions, and SEO tips. Well, all these parameters are available with the data of having a threshold of listing upto 100 stores. These different parameters can be used for making better business strategies for outgrowing your competitors; one thing that attracted me was SEO tricks; well these data can be used for making your product getting listed on Etsy when a certain keyword is searched, this, as a result, can be helpful in delivering better ROIs, sales and conversion rates.
You can also get along two different options for listing, which include all optimizations and optimized listing.
Follow Up Reminder
Having a follow-up on how your customers are doing in terms of business can be an excellent way of making things great for a number of factors as you can later convert these customers into loyal customers by just having a follow-up and acting accordingly.
EtsyHunt Follow Up Reminder
At this moment, the follow-up reminder is in the demo, but it lets you get different data for total reviews, avg. rating, review rate and send now. You can also get around different filters for getting better audience targeting. The follow-up reminder lets you use target filter order by getting along with the customer, request status, review status, message, product and much more.
The follow-up reminder is pretty new and can help you by offering:
Order Screening: This can be an excellent thing for getting track of who left positive reviews.
AI Messaging: This can help save a lot of time as you can use smart tags for importing customer information into the inbox.
Batch Editing: Can be an efficient feature as you get better order tracking.
Daily Updates: Get daily updates over any orders, which can help keep a better track of how things are going.
A/B Test: The A/B testing can be excellent practice as this can help you in getting across different paths and using the one which is best suitable for your business.
Zero Negative Reviews: Since you can get a follow-up on how customers review the delivered products, from where the negative reviews can later be turned out into positive ones.
Review Insights: Basically, having an overview of insights (the positive and the negative reviews) can be helpful for better business operations and strategies.
Review Ratio: The proportion of how people have been reviewing your product in the past three months.